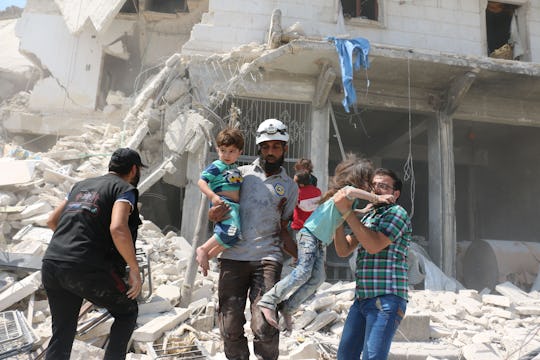 AMEER ALHALBI/AFP/Getty Images
Bombing In Aleppo Kills Over A Dozen Attending A Wake For Children
Tragedy continues to strike Syria and the city of Aleppo, where innocent people continue to be bombed and the attacks never seem to stop. The scope of the attacks is both tragic and shocking, as headlines of death and destruction continue to emerge from the city, sometimes making it hard to comprehend. On Sunday, a bombing in Aleppo killed over a dozen who were attending a wake for the victims of a previous attack.
According to CNN, a helicopter flew over the wake and dropped two barrel bombs just minutes apart from each other as people were mourning the deaths of children at a funeral. The barrel bombs killed at least 16 reported people as of Sunday morning, according to Syrian monitoring groups. The Aleppo Media Center, according to CNN, reported a different and higher death toll of 24 people from Sunday's attack. According to CNN, barrel bombs are "oil drums filled with explosives" and other harmful materials that are then dropped by aircrafts and leaving destruction in their wake.
According to Sky News, the double barrel bomb attack on Sunday is known as a "double tap," which is supposed to lure "rescue workers to the scenes of carnage caused by barrel bombs and then dropping a second on them" this is reportedly "a standard trick of the Assad regime and its Russian allies."
According to NBC News, Aleppo is a rebel-held city, according to activists, and the Syrian Observatory for Human Rights has "blamed government aircraft" for the attack. However, according to CNN, Syrian President Bashar al-Assad has "categorically denied any use of barrel bombs by his forces" in a 2014 interview with the BBC.
But the worst part about Sunday's attack? According to CNN and NBC News, the wake that was attacked was a wake to mourn the victims from a similar attack on Thursday.
On Thursday, 15 people, including children, had been struck by barrel bombs in part of two attacks that occurred in Aleppo on Thursday, according to CNN. On Sunday morning, people were simply trying to mourn the lives and instead faced tragedy of their own.
These tragedies come on the heels of an image of a young Syrian boy, sitting in an ambulance and covered in soot and blood, that went viral earlier in the week. While the boy is still alive, the image and recent headlines represent one very important and upsetting thing: the warfare continues to go on and some are not fortunate enough to have survived attacks.
On Thursday, UNICEF released a statement declaring to help and save the lives of Syrian children by providing them vaccines, medicines, and the nutritional supplements that are necessary for them to get better. "The children of Aleppo must no longer live under constant fear of attack in what has become one of the most dangerous cities in the world," UNICEF Executive Director, Anthony Lake said in the statement.
The children of Aleppo should not have to live in fear of constant attack — fearing for their own lives or the lives of their families. These attacks, happening just days apart, are truly heartbreaking.