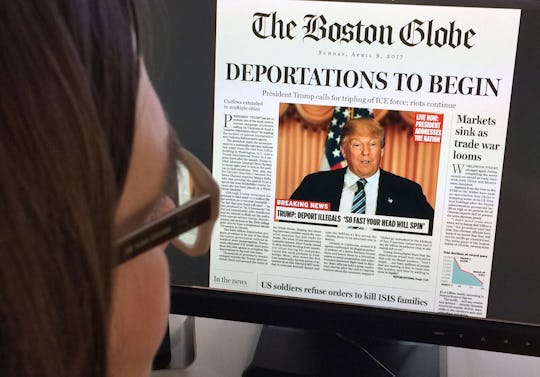 KAREN BLEIER/AFP/Getty Images
Boston Globe's Anti-Trump Front Page Is The Nightmare Reminder We Need
On Sunday, the front page of the Boston Globe blared "DEPORTATIONS TO BEGIN," "Markets sink as trade wars loom," and "U.S. soldiers refuse orders to kill ISIS families." No, it's not reality, at least not yet. But Boston Globe's fake, anti-Donald Trump front page seems scarily probable the more you look at it, unless the Republican party eventually decides to coalesce around another candidate.
To accompany the fake front page, which appeared in the Ideas section of the paper, The Globe published a scathing, anti-Trump editorial explaining the logic behind the satire, writing,
The rise of demagogic strongmen is an all too common phenomenon on our small planet. And what marks each of those dark episodes is a failure to fathom where a leader's vision leads, to carry rhetoric to its logical conclusion. The satirical front page of this section attempts to do just that, to envision what America looks like with Trump in the White House.
The board called upon Republican leaders to take a stand against Trump and to put forward a different nominee like Paul Ryan or Mitt Romney at what seems more and more likely to be a contested convention. "The Republican Party's standard deserves to be hoisted by an honorable and decent man, like Romney or Ryan, elected on the convention floor," the board wrote. "It is better to lose with principle than to accept a dangerous deal from a demagogue."
The fake front page, dated April 9, 2017, included details of a possible Trump presidency ranging from the funny (assuming they never become a reality) to the straight-up chilling. On the funnier side, the paper imagined an "Attorney General Chris Christie" standing beside Trump in a recreation of that famous silent scream, while Fox News' Megyn Kelly tweeted about it from a sports bar due to her placement on a White House blacklist.
On the not-funny-at-all side, an article imagining the implications of Trump's assertion that he would kill the families of ISIS terrorists said:
Two militants were killed in a firefight, but three women and two children were left alive, contrary to orders issued directly by President Trump. "When the president promised to take out families of radical Islamic terrorists, he meant it," a senior administration official told reporters traveling on Air Force One.
The fake front page, which also included visions of illegal immigrants being tossed onto buses headed for deportation camps, a rapidly-plummeting DOW, and a libel law targeting "absolute scum" in the press, seems especially important in Massachusetts, which Trump won handily on Super Tuesday. In recent contests, the frontrunner has shown some chinks in his armor, losing to Texas Sen. Ted Cruz in Wisconsin and Colorado, raising the possibility that he will not garner enough delegates to automatically secure the nomination before the convention in July.
Only time will tell if the Boston Globe's nightmare scenario of a Trump presidency will come to pass, but hopefully the headlines from the fake front page will stay in the satirical world, where they belong.