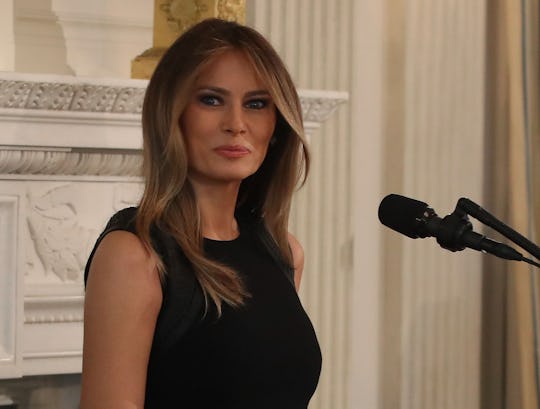 Mark Wilson/Getty Images News/Getty Images
Bow Wow's Melania Trump Tweet Is Not OK
After President Donald Trump's mind-bending Twitter reaction to a music video by Snoop Dogg in which the rapper mock-assassinates a undeniably Trump-inspired clown, another entertainer has leapt to his defense. But, with its outlandish reference to prostitution, Bow Wow's Melania Trump tweet was totally out of line. Even at a bizarre time when the president of the United States is tweeting about rappers at the crack of dawn, it's never appropriate to refer to women the way Bow Wow, also known as Shad Moss, did in his own tweet — no matter who she is.
In the Wednesday afternoon tweet, Bow Wow warned Trump to "shut your punk a-- up talking sh-t" about Snoop Dogg — a hip hop legend who has been a mentor to the younger man, Complex reported — "before we pimp your wife and make her work for us." It's a crude, demeaning reaction to a confounding, convoluted situation that seems too insane to involve the president of the United States. But, alas, Trump is actually at the center of the controversy, having tweeted about Snoop Dogg's "Lavender" music video shortly after 7 a.m. Wednesday, just a few days after the parody dropped.
"Can you imagine what the outcry would be if @SnoopDogg, failing career and all, had aimed and fired the gun at President Obama?" the leader of the free world asked his 26 million Twitter followers not long after Fox & Friends, a known cable news favorite of Trump's, aired a segment on the clown-themed video. "Jail time!"
It's unlikely that such a video by itself would have earned Snoop time behind bars if it had slammed Obama as it does Trump, but the video did cross the Secret Service's radar after it was released Sunday. That's because, in the clown-populated world of "Lavender" (which also unsubtly critiques the epidemic of police shootings of black men in the United States), Snoop at one point holds a toy gun to the head of "Ronald Klump" and pulls the trigger. What emerges is a cartoonish "Bang!" banner and glitter, but the message is abundantly clear.
It's not hard to see why Trump was unimpressed with the video, and totally unsurprising that he tweeted about it, considering his propensity to tweet his every grievance. Clearly, there's no love between Trump and Snoop Dogg (although the rapper did appear on season six of The Apprentice). But for Bow Wow to jump into the (already undignified) fray by threatening to to pimp out Melania Trump crosses a line that Snoop did not in his parody video.
Because, at the end of the day, it's not just about Melania Trump. The idea of deciding to become a "pimp" to any woman is vile and degrading. It's also a totally ineffective way to encourage the president to log off Twitter once in a while.