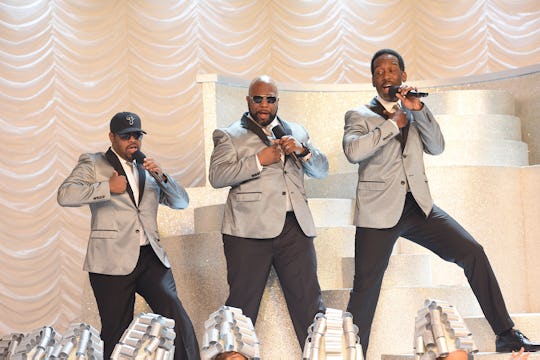 Grease: Live/FOX
Boyz II Men Play Teen Angels In 'Grease: Live' & Even 'Grease' Purists Can Get Behind The Update
It might be hard to top Frankie Avalon's role as Teen Angel in the original 1978 movie version of Grease, but if anyone can do it, it's probably Boyz II Men. The 90s R&B group famous for ballads like "End Of The Road," "On Bended Knee," and "One Sweet Day" with Mariah Carey (which happened to be on the first CD I ever owned, what up 1996 Grammy Nominees!) became a trio in 2003 after Michael McCary left, but have since continued touring together over the years. Boyz II Men announced their involvement in Grease:Live! on Twitter back in the beginning of January, according to Billboard, and their performance certainly didn't disappoint.
Appearing as dream-like angels, the group sang "Beauty School Dropout" to Frenchy (played by Carly Rae Jepsen), and it was soulful, harmonious perfection. And although Avalon's iconic '50s style seems synonymous with Grease at this point, Boyz II Men managed to honor the original fans all know and love while still staying true to their signature smooth style. Even diehard fans of the original film would be hard-pressed to admit this updated version wasn't also totally awesome.
Grease: Live! is the newest update to the beloved film, which was first released almost 40 years ago (!), according to Vogue. And the live cast is full of famous faces, including Jepsen, Julianne Hough, Vanessa Hudgens, Keke Palmer, and Aaron Tveit. Jessie J was also on board to sing her totally on-point version of the theme song.
Boyz II Men may have been the perfect choice to sing "Beauty School Drop Out," and judging from a recent photo from the band's Twitter account, it looks like they were well-acquainted with another Grease icon, Dick Clark and American Bandstand. The group shared a pic of themselves with the late media legend, whose hit music show inspired the National Bandstand story line at Rydell High (hand jive, anyone?).
Well, thanks, Boyz II Men. Pretty sure I'm going to have "Beauty School Dropout" stuck in my head basically forever.