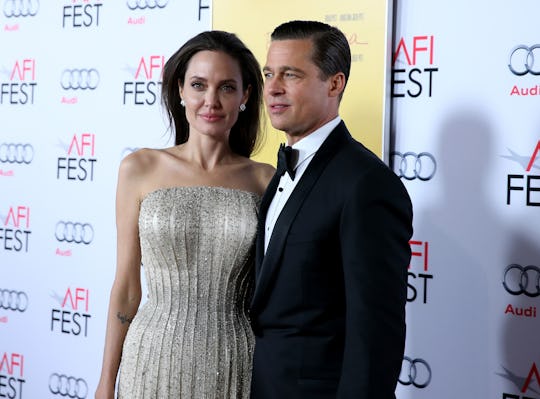 Jonathan Leibson/Getty Images Entertainment/Getty Images
There May Be Hope For Brad & Angelina After All?
Look, the world hasn't exactly been full of good news recently. Seriously, Anna Faris and Chris Pratt are separating, the United States is one Trump tweet away from World War III, and we're still waiting on someone to invent a calorie-free pizza. But, today there is some good news: Brad Pitt and Angelina Jolie have reportedly put their divorce on hold, and that's honestly all we can ask for right now. Romper has reached out to Jolie and Pitt's representatives for comment regarding the news and is awaiting a response.
According to an anonymous source who spoke to Us Weekly, "The divorce is off. They haven't done anything to move it forward in several months and no one thinks they are ever going to." This news comes as a shocking twist after the couple's bombshell announcement that they were divorcing just last September. Since then, it's seemed like the pair were really and truly over. As Glamour reported: "A narrative quickly emerged that Jolie reached a breaking point when Pitt 'lunged' at their son Maddox on a private plane. It's been speculated that Pitt's drinking and smoking habits were also points of contention between the couple."
But now, if this source is to be believed, Pitt and Jolie are ready to move forward, together. And while it's natural to want the A-list pair to stay together, as Hollywood's golden couple, it's also important to remember that it's their business, not ours.
The source also told Us Weekly that Pitt "got sober to try and win her back. He knew he had a problem that he had to take care of. And that's all she ever wanted." So if this is indeed true, then it's pretty awesome.
Considering that Pitt, who is 53, and Jolie, 42, have six children together, working on their marriage might be what makes the most sense to them. Perhaps, after the initial fallout of the divorce announcement, the two were able to take some time to re-evaluate what they wanted. However, it's also important to remember that "Pitt and Jolie have reportedly been attending family therapy sessions with their six children along with individual sessions," Harper's Bazaar reported.
The source also revealed that Jolie is "still so in love with him," and that she would definitely seriously consider taking Pitt back, "if he showed he was committed to raising a family."
Of course, all of this information is brought to you by an anonymous source, so it isn't exactly cold, hard facts. But, if it is true, then Jolie and Pitt deserve continued privacy to work through whatever they need to work through.