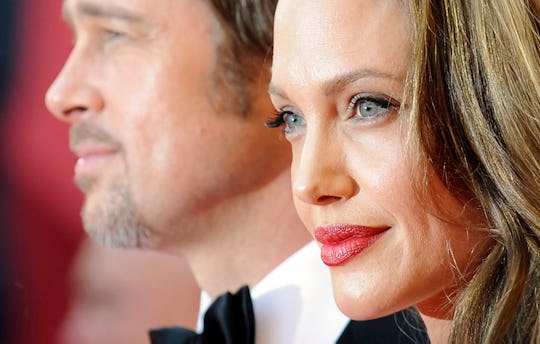 ANNE-CHRISTINE POUJOULAT/AFP/Getty Images
Brad Pitt & Angelina Jolie Release First Statement
On Tuesday, after months of high-profile coverage, Brad Pitt and Angelina Jolie released their first joint statement since filing for divorce in September of last year. The statement said in part that they will be keeping all divorce documents sealed, and that all parties involved will be working with a private judge. Pitt had previously filed to have court documents sealed in early December, but his request was denied by a judge. This joint statement to keep their divorce documents confidential comes after several of their court filings have been made public since Jolie filed for divorce from Pitt on Sept. 19, citing "irreconcilable differences."
In October, Jolie was granted full custody of their children temporarily, as part of an agreed-upon plan after a DCFS investigation into the children's wellbeing. Jolie's divorce filings indicate the date of the end of their marriage as Sept. 15, a day after Pitt allegedly became "verbally abusive and physical" with his children aboard a private jet, according to reports. Pitt was cleared of child abuse allegations by the FBI in November. No further details of the incident have been released, and lawyers for Pitt and Jolie did not immediately return Romper's request for comment on the incident.
Jolie and Pitt's divorce has played out viciously in the public spotlight. In a Dec. 22 court filing by Pitt, the 53-year-old actor said that Jolie "appears to be determined to ignore even agreed upon standards relating to the children's best interest" and claims she has "no self-regulating mechanism" about revealing information about their children to the public. Specifically, Pitt was concerned when he asserted that Jolie "exposed the children by making public the names of their therapists and other mental health professionals."
While Jolie temporarily has full custody of their six children — Maddox, 15, Pax, 13, Zahara, 11, Shiloh, 10, and 8-year-old twins Vivienne and Knox — Pitt has filed for joint custody according to a Nov. 4 court filing. Jolie seeks full physical custody of their children permanently.
CNN obtained a copy of Pitt and Jolie's joint statement on Tuesday, and reads in full below.
The parties and their counsel have signed agreements to preserve the privacy rights of their children and family by keeping all court documents confidential and engaging a private judge to make any necessary legal decisions and to facilitate the expeditious resolution of any remaining issues. The parents are committed to act as a united front to effectuate recovery and reunification.
Pitt and Jolie got married in August 2014 in a private wedding in France after they announced their engagement in 2012. Theirs was not the first marriage for either of them: Pitt is Jolie's third husband, after she divorced actor Billy Bob Thornton in 2003 and English actor Johnny Lee Miller in 2000. They both cite their work together on the 2005 spy-vs.-spy film Mr. & Mrs. Smith as the start of the attraction, and their relationship was made official shortly after Pitt divorced Friends star Jennifer Aniston, after a five-year marriage.
After 12 years of highly public married and family life, it's all coming to an end just as publicly. Divorce is never easy, no matter the circumstances, and thankfully, the divorce docs can finally move out of the spotlight for the sake of their six children.