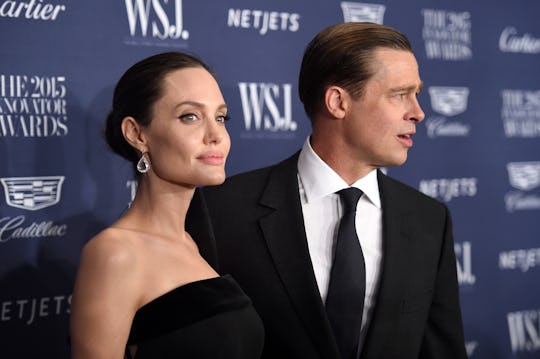 Dimitrios Kambouris/Getty Images Entertainment/Getty Images
Pitt & Jolie Share Time With Their Kids In Cambodia
Spending adequate time with their family of six is no easy feat, so the fact that Brad Pitt and Angelina Jolie shared time with their kids in Cambodia is a pretty refreshing development for the recently divorced couple. Six months ago, their divorce announcement came as a shock to many, bubbling up with some rough rumors and nasty allegations. This most recent change, however, shows that things are headed in an amicable direction for the two actors and their young crew.
Shiloh, Maddox, Knox, Vivienne, Zahara, and Pax joined Jolie on a March 11 flight to Cambodia where she's filming a project, and an E! News source reported that "all through production and filming, and on her most recent press trip, Brad came to Cambodia in secret to spend time with the kids." Pitt was visiting Cambodia as much as possible, the source claimed, "except when it conflicted with his own shoot schedule." The source estimated that for about 75 percent of the time the kids were with Jolie and the other 25 percent was spent with their father, while being sure to note that the brood returned to Los Angeles for multiple Pitt visits, too.
Many theories as to why the Jolie-Pitts split up have circulated, including speculation that Pitt's personal issues were to blame (those claims were never confirmed), and others suggesting that it was differing parenting styles that caused Jolie to seek separation (one insider claimed that an in-flight confrontation between Pitt and his 15-year-old son Maddox was the tipping point, though neither actors' reps would comment on the matter). As a result of these claims, Pitt was investigated for child abuse, but he was eventually cleared by authorities of all allegations.
Ultimately, both parents have opted to stay quiet about their divorce, focusing on the family's healing instead. Jolie and Pitt used a private judge, keeping their personal, divorce information between the two of them alone, while they're equally "committed to act as a united front to effectuate recovery and reunification," they shared in a statement. As public of an spectacle as this has become, they're doing all that they can to prevent more equally unfounded rumors.
When asked about what happened to prompt her divorce from Pitt, all Jolie said was that "it was a very difficult time." "... We will get through this time and hopefully be a stronger family for it," she stated, through her representation. Being able to share custody in the context of two busy schedules is definitely a step towards strengthening ties for all eight family members. Rather than focusing on the past, Jolie and Pitt are focusing on the future — and that includes their children, who likely want both mom and dad in their lives, no matter what continent they're on.