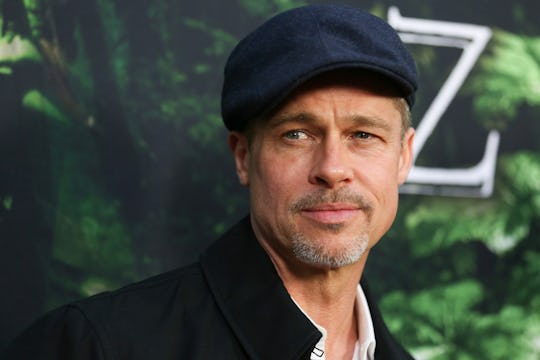 Rich Fury/Getty Images Entertainment/Getty Images
Brad Pitt Talks About Divorce Publicly
It's been a long six months since news of his messy split rocked the world, but in a recent interview, Brad Pitt finally talked about his divorce from Angelina Jolie, and revealed that he's quit drinking as a result. In an interview with GQ, the actor also spoke candidly about some of his other issues:
For me this period has really been about looking at my weaknesses and failures and owning my side of the street. I'm an asshole when it comes to this need for justice. I don't know where it comes from, this hollow quest for justice for some perceived slight. I can drill on that for days and years. It's done me no good whatsoever. It's such a silly idea, the idea that the world is fair. And this is coming from a guy who hit the lottery, I'm well aware of that. I hit the lottery, and I still would waste my time on those hollow pursuits.
Once the patriarch of one of Hollywood's most prominent families, Pitt's situation took a dramatic twist last September when a family argument on a private jet spurred allegations of child abuse, and even briefly caught the eye of the FBI. Both the Los Angeles County Department of Child and Family Services and the FBI eventually cleared Pitt of any crime, but Jolie still filed for divorce after the incident, seeking sole custody of the couple's six children.
The dirty laundry continued to pile up for months as the custody battle wore on, with Pitt accusing Jolie of ignoring "agreed upon standards relating to the children's best interest" by publicizing the names of their children's therapists, according to a court filing obtained by People. In December, Pitt requested that all court documents relating to their divorce and custody agreement be sealed. Jolie and her attorney responded in January, agreeing that sealing the records would be best for the children, while simultaneously claiming that Pitt only wanted them sealed because he was "terrified that the public will learn the truth," according to ET.
The GQ interview paints a picture of Pitt in a better, albeit lonelier, place. He's staying in the Hollywood Hills home where he and Jolie raised their children, all alone, save for a bulldog named Jacques. The actor's revelation of his "very solemn" life is juxtaposed with jarring high-fashion photos of him mugging for the camera at various national parks. "I was boozing too much," Pitt admitted. "It's just become a problem." But he also believes that "every misstep has been a step toward epiphany, understanding, some kind of joy." And the epiphany that his divorce brought? "I gotta be more. I gotta be more for them. I have to show them. And I haven't been great at it." As for the future, his hope is "that everyone comes out stronger and better people — there is no other outcome."