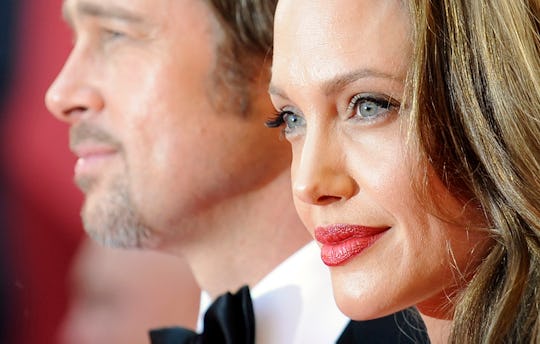 ANNE-CHRISTINE POUJOULAT/AFP/Getty Images
Brad Pitt's Quotes About Parenting That Might Offer Clues About His Split From Angelina
If you're like me and still reeling from the news that Angelina Jolie and Brad Pitt have decided to pull the plug on their marriage after only two years, the reports from TMZ, and other outlets, that the relationship dissolved over Brad's interaction with their six kids is just too much to handle. For clues, let's look at Brad Pitt's quotes about parenting to try and make sense out of the end of the union between two of the planet's most beautiful people.
Romper has reached out to both of the actors' representatives and has not yet received a response, but attorney Robert Offer said in a statement, according to Reuters: "This decision was made for the health of the family. She will not be commenting, and asks that the family be given its privacy at this time."
Pitt reportedly provided this statement to People about the end of his marriage to Jolie, saying "I am very saddened by this, but what matters most now is the well being of our kids. I kindly ask the press to give them the space they deserve during this challenging time."
But anonymous sources are getting the word out the split has nothing to do with infidelity and everything to do with parenting differences. The revelations leave so many questions unanswered, especially since Jolie is not asking for joint physical custody, according to Us Magazine. She wants sole physical custody of Maddox, 15, Pax, 12, Zahara, 11, Shiloh, 10, and 8-year-old twins Knox and Vivienne.
Here are a few choice quotes from Brad Pitt on fatherhood that make him sound like a near-perfect dad.
On The Beauty of Family
From Psychologies in 2014: "I care about them more than I care about myself. You see past yourself and become more generous and giving, and wanting only the best for your family ... You learn to value the basic beauty of family, of watching your children grow and evolve. It's the most beautiful thing you can experience."
On Adopting Zahara
From Parade in 2011: "I can't place the importance of one child over that of any other. I have seen children suffer far beyond what we experience in America -- like out oldest daughter (Zahara). I know she would not be alive. I know what care was available to her and it was nil. I cannot imagine life without her."
On Sleep Deprivation
From Now Magazine in 2010: "Sleep is non-existent. It's chaos at times, but there's such joy in the house."
On His Bursting Heart
From Now Magazine in 2010: "It's the biggest pain I've ever experienced, I love it and I can't recommend it more highly."
On Car Chaos
From People in 2010: "It's like a half-an-hour just to get everyone buckled in and make sure they've got their snacks and Z.Z. has got a blanket and Shiloh's got her silky," he says. "Angie's militant about it. She's right on top of it. Thank God because I'm always forgetting something."
On Staying Grounded
From USA Weekend in 2011: "Angie and I do everything we can to carve out some semblance of normalcy for them, to re-create the kinds of moments that were special for us. It's not unusual for the kids to be covered in paint. We have mud fights. It's chaos from morning until the lights go out, and sometimes after that."
On The Risk Of Loss
From Parade Magazine in 2010: "a family is a risky venture, because the greater the love, the greater the loss."
On Fatherhood & Career
From Pitt told OnTheRedCarpet.com in 2011: "I'm hoping when my kids grow up, they'll go, 'Dad's a pretty good actor because that's not him.'"
I'm not crying, you're crying.