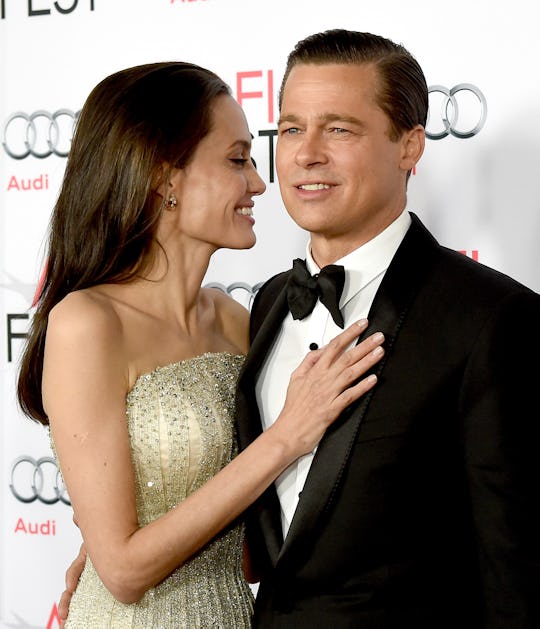 Kevin Winter/Getty Images Entertainment/Getty Images
Brad Pitt's Reaction To Angelina Jolie Filing For Divorce Puts The Kids First
In a story first reported by TMZ, Angelina Jolie filed for divorce from Brad Pitt on Monday. Citing irreconcilable differences, the actress made the decision "for the health of the family," according to a statement. It looks like her soon-to-be-ex is on the same page, because Pitt's reaction to Jolie filing for divorce makes it clear that he's got the kids' best interests at heart. In a statement to People, he said, "I am very saddened by this, but what matters most now is the well being of our kids. I kindly ask the press to give them the space they deserve during this challenging time."
According to anonymous sources cited by TMZ, Jolie is requesting joint legal custody, but sole physical custody of the children, allowing only for visitation with Pitt. They point to the children as a the reason for the breakup, claiming that Jolie was concerned about Pitt's "consumption of weed and possibly alcohol" and that she believes he has "an anger problem." Romper has reached out to both camps for comment, but did not immediately hear back. TMZ further claimed that Jolie had retained the services of famed Hollywood divorce attorney Laura Wasser, although a statement made on Jolie's behalf that was obtained by Reuters was attributed to attorney Robert Offer.
Back in 2012, Jolie praised Pitt's parenting skills in an interview with Britain's OK magazine. Via Inquisitr: "Brad has always had this incredible bond with Mad, who's very smart, and Brad loves teaching him about history and art and culture – it's an amazing thing to watch them together. I think I'm a little closer to the girls, maybe, but he's always making them laugh." In 2011, Pitt told People that although he's made parenting mistakes in the past, "I'm painfully aware that my actions leave a double mark on them in these formidable years, so I make sure I don't bring my crap at home."
In 2014, Jolie called Pitt "a wonderful teacher and guide" to their children, according to the Mirror, and added that he "loves being a father and that's one thing I'm most proud of about him." And just last year, Pitt opened up to the Telegraph about parenting, describing raising six kids as "a lot of love, a lot of fighting, a lot of refereeing; a lot of teeth-brushing and spilling… Chaos, total chaos. But so much fun." He continued, "I feel like my job is to show 'em around, help them find what they want to do with their life, put as many things in front of them, and pull them back when they get out of line, so they know who they are." Though the details behind the family's breakup aren't known at this time, it sounds like Pitt and Jolie both agree that they want what's best for the kids, and that's the most important thing.