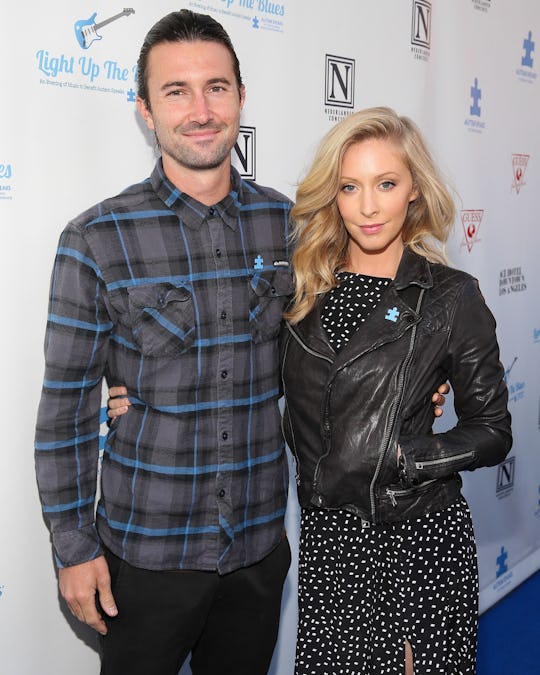 Imeh Akpanudosen/Getty Images Entertainment/Getty Images
Brandon & Leah Jenner's Separation Announcement Contains A Loving Message About Their Family
Separating from your partner is rarely a clean or simple thing, especially when there are children involved. However, breakups do happen in all walks of life, and though it's never easy, most people try to handle them with as much grace as they can. Such is the case in Brandon and Leah Jenner's statement about their separation, which was announced today, Monday, Sept. 10. After 14 years together, the couple has decided to part ways.
Both Brandon and Leah posted a joint statement to each of their Instagram accounts, announcing that they are splitting up, as People reported. "Hi everybody, it is with love in our hearts that we feel it's time to share some personal news with you all. After celebrating fourteen beautiful years together, we have lovingly come to the decision to end the romantic aspect of our relationship," they wrote. "We are deeply proud of the life we've cultivated together and are truly grateful for the bond of friendship we hold and cherish today. It is stronger than ever."
They continued to explain that although they are parting ways, they will still remain an active part of one another's lives, as well as "loving" co-parents to their daughter. "There has been no lying or cheating or fighting that prompted this change, just an expansion of our individual evolution which has inspired us to support each other in a new way. We are still, very much, a loving family and are bonded by a deep connection that is rooted in love," they said.
A few hours after the posts went live on both Brandon and Leah's Instagram pages respectively, they both decided to close the comment sections.
In 2015, Leah gave birth to the couple's only child, Eva James Jenner, as HELLO! reported. "On Wednesday, July 22nd I became a Mom," Leah said at the time. "It has without a doubt been the most profoundly beautiful time in my life but also emotionally, spiritually and physically challenging too.... and I am so grateful for every second of it. Brandon and I are taking care of our healthy, little baby girl, Eva James Jenner."
It's clear that in the years since, the couple's priorities have not shifted. Along with being devoted parents, Brandon and Leah have also performed and produced music together, as Leah explained in an interview with Fab, Fit, Fun back in 2014. But as for whether or not they had any plans to join in the KarJenner reality TV empire? (Brandon is the son of Caitlyn Jenner, after all.) Probably not.
"You know, we have been talking about it… I think we're still up in the air. Music is something we have always loved and it is first and foremost in our lives," Leah explained to Fab, Fit, Fun. "If TV could incorporate our music, then maybe we would consider it. As of right now, we're just going to stick with the music."
There's no further word on whether or not they will continue to make music together, and the couple have pretty impressively been able to keep many aspects of their relationship out of the spotlight. Despite that, the way they are spoken about by members of their immediate family says a lot about their character, and proves that they are nothing if not consistently active in their lives.
In an interview with People, Caitlyn Jenner opened up about the process of telling her family that she would be transitioning. "I started with my son Brandon, because he's like our little family Gandhi," she told the magazine. "He just has this great outlook on life and a very open mind. I figured he would be the easiest, so I sat down with him and his wife Leah and told them my whole story." Caitlyn proceeded to explain that Brandon's response made her cry, as he said that he had never been more proud of her than he was at that moment.
Sweet sentiments aside, it's clear that both Brandon and Leah are incredible people, and that they'll step into the next chapter of their lives as co-parents with nothing but heart and strength.