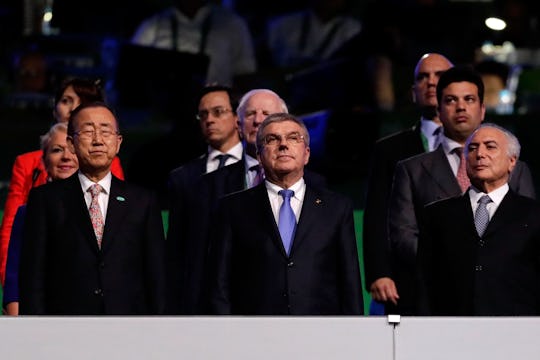 Jamie Squire/Getty Images Sport/Getty Images
Brazilian President Michel Temer Booed At Rio Olympics Opening Ceremony
Brazil fought to keep the first night of the Olympics light with positive messages and bright displays. This did not, however, prevent the public from voicing its political disapproval of Brazil's leadership. Tonight, Brazilian President Michel Temer was booed at the Rio opening ceremony, and he didn't even give a speech. The interim, unelected president is quite unpopular, and his constituents apparently had no issue vocalizing that dissatisfaction.
Presidents typically open the games with introductory remarks, but Temer did nothing of the sort, out of fear of its reception. According to Forbes, Protests against Temer have been raging as Brazilians oppose both Temer as well as the country's hosting of the Olympics. The chant "fora Temer," or "Out, Temer," has permeated the Games. When the opening ceremony performance concluded, Temer spoke a solitary sentence to the crowd that was barely heard, though the organizers of the games were prepared for this reaction. Using music and deftly controlled soundboards, speakers, and fireworks, they worked to minimize the reach of the booing, though many who were present at the event say it was fully heard. Decisions to cut Temer's remarks were seemingly last-minute, as he "was scheduled to be introduced along with International Olympic Committee president Thomas Bach during the traditional Presentation of the Presidents" and was listed in the printed program. ‌
Temer became president upon former President Dilma Rousseff's impeachment—a situation in which, as her vice president, he "turned against her." Rousseff still faces a formal trial, and Temer has taken over the presidency for the time being. Rousseff has deemed Temer's actions a coup, and has called it a conspiracy, though Temer denies these assertions, accordingot Fusion. Decisions as to whether or not to begin a trial against Rousseff will be made by a Senate vote next week. Temer's aids have indicated that he has the "two-thirds majority needed to defeat the president" and earn the presidency on a more permanent basis.
Brazilians have proven with their boos that they don't care to hear from their interim president at any point throughout the games. Since taking over the position in May, Temer's approval rating remains low. If the Olympics offer the economic boost that Temer has been promising, his approval ratings may increase. But the Olympics are not be a cure-all; though they offer a fun distraction from the countless economic, political, and public health issues at hand, Temer needs to provide more exact solutions to perceived issues.