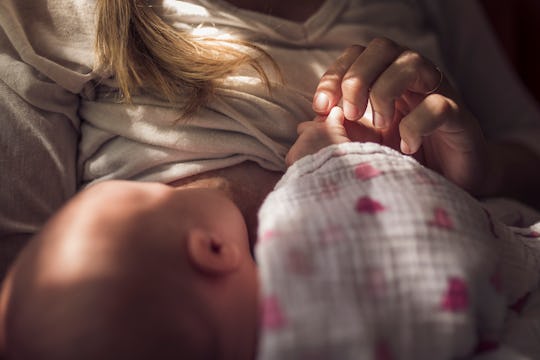 Cavan Images
Back Pain From Breastfeeding Can Really Throw You For A Loop — Here's What You Can Do
For moms who breastfeed, the commitment struggles are real. Sure, it's super beneficial for you and your baby's health, but if you aren't careful, it can do a number on your back. Whether you are a first-time mom or an experienced one, breastfeeding can bring up questions and situations that you would not have expected. Nipple and breast pain are commonly associated with nursing, but breastfeeding back pain is common, too, and one of those things no one mentions.
At some point, every mom will face some strain when breastfeeding, International Board Certified Lactation Consultant (IBCLC) Mina Rorcharshky tells Romper — especially when they aren't nursing in an optimal position. But she says that when you implement the right support measures and keep your spine neutral, it shouldn't be an everyday issue.
I breastfed both of my babies for two years each, and it wasn't until a few months into nursing my first that I realized how badly it was affecting my back. I have bad posture to begin with, and my style of nursing wasn't helping at all. With some time and experience, I found that implementing proper nursing positions really helped ease my back pain, and after that it was smooth sailing.
If you are suffering from pain of any kind when you're nursing, talk to a lactation consultant. They know everything about breastfeeding and more, and they can definitely help make your breastfeeding journey easier. I wish someone warned me about my back when I started nursing, so here are a few things I learned that you should make note of right now.
This article was originally published on