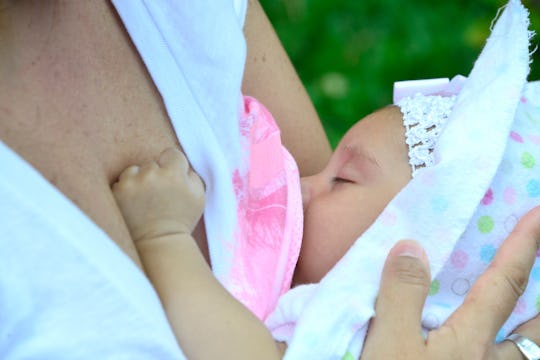 EZEQUIEL BECERRA/AFP/Getty Images
Breastfeeding Mom Says An Officer Threatened To Arrest Her, But She Refused To Back Down
In the latest battle in the breastfeeding wars, a Georgia mother's Facebook post has gone viral after she claimed that a police officer threatened to arrest her for breastfeeding at the supermarket checkout line on Sunday evening. Savannah Shukla was reportedly just about to leave the Piggly Wiggly store when she said a deputy approached her and told her to "cover up because someone might find it 'offensive,'" she wrote on Facebook. But Shukla knew that Georgia law allows breastfeeding — covered or uncovered — in any public or private location that the mother and child are legally allowed to be.
Shukla reportedly told the deputy that she knew her rights, but said that he told her she was wrong, and that if he saw her nipple, he might have to arrest her "for being offensive," and that "This isn't like the first amendment where you can say something offensive." Romper's call to the Muscogee County Sheriff's Office for comment was not immediately returned.
I then repeated what the GA state law says and told him if someone finds this offensive something is wrong with them.
For him to tell me once again that I just "think" I know the law.
He also pointed out how he could "already see my areola" and that if someone saw my nipple (even if I were trying to cover up) that he would have to arrest me and that he "really didn't want to arrest me". For him to see my areola he would've had to have been staring VERY hard.
Keep in mind that all this was allegedly going down while Shukla was dealing with not one, but two babies, a 1-month-old and a 20-month-old (and probably some melting ice cream). Shukla left the store, but not before a witness snapped a picture of the exchange. "April the Paralegal" said in her own Facebook post that after Shukla left, she approached the officer, who identified himself as "Deputy Zipata." She then caught up with Shukla outside the store.
By Monday morning, the news had gotten around to Muscogee County Sheriff John Darr, and he posted on his own Facebook page, "I fully understand and appreciate the right of a woman to feed her child wherever she is most comfortable." He confirmed that the state law was on Shukla's side, and said that the Muscogee County Sheriff's Office did not condone Zipata's actions, and would be investigating the incident. Shukla told Romper that she's filed a formal complaint, and that Darr "has been excellent help." She also confirmed that an investigation is underway. Good for her for not backing down, and good for "April the Paralegal" for coming to her defense. This unfortunate incident serves as a reminder that public breastfeeding is legal in every state except Idaho, and photographing or videotaping police is legal in every state. The women of Muscogee County are lucky Shukla and April knew that.