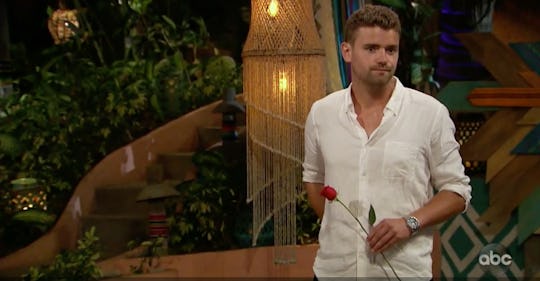 Screenshot/ABC
This 'Bachelor In Paradise' Rose Ceremony Made History & Not In A Good Way
As Bachelor in Paradise winds down on Season 6, it's time for the remaining couples to get super serious about their plans outside of Mexico. To that effect, Chris Harrison took it upon himself to cancel the cocktail party ahead of the second to last rose ceremony to really test everyone's relationship. Unfortunately, one Hail Mary rose resulted in a super cringeworthy let-down: Bri rejected Luke's rose on Bachelor in Paradise, and it was incredibly awkward.
"Honestly, I came here to find love and a relationship and I just don't think that I see that with you," she told him. "Knowing what this rose represents, I can't say yes to that. I'm sorry."
Luke basically tripped over himself reassuring her that it was totally fine, cool cool cool, while Dylan tried desperately to keep from laughing and Demi made increasingly pained faces. To his credit, Luke admitted when he offered Bri the rose that he realized they'd spent...basically zero time together. In fact, they had not even a hint of a connection with each other. But he did want to try and get to know her, and Luke feebly hoped that his rose would enable him to do that.
As Chris pointed out, no one in BiP history had ever rejected a rose and returned to stand with the contestants. (Usually, they reject roses and then opt to go home because they don't see connections with anyone forming.) This left Chris in the unenviable position of asking if anyone else wanted Luke's rose. Bueller? Bueller? Literal crickets responded, so unfortunately, Luke was sent on his tragic way, since, as the rules state, you have to actively be pursuing a relationship in order to stay in Paradise.
"Absolutely, Chris," Luke responded. "Don't worry about it." Somehow, the painful earnestness with which he tried to make everyone feel more comfortable about this incredibly embarrassing turn of events just made everything even more unbearable. In the van ride home, Luke bravely chalked up his rejection to joining the show halfway through the season, saying he understood that's just how Paradise goes sometimes.
Bri later accepted Matt Donald's rose. But even that connection was doomed.
Matt found himself in an unexpected love triangle for a dude who can't kiss and was left to choose between Sydney and Bri, two inexplicably gorgeous women, at the rose ceremony. He ultimately cut Sydney, despite admitting he had a much better emotional connection with her, to pursue "supermodel" Bri. In fact, he brought up the possibility of having a "supermodel girlfriend" an uncomfortable amount of times — once to Bri's actual supermodel face.
"Honestly, I'm feeling a little bit like you made the wrong decision by giving me the rose," Bri told him after fielding yet another compliment. "I feel like you see the exterior of me but I want to be chosen because you know things about my heart and the person that I am. I can't see this going father."
Uh, so, needless to say, both she and Matt sent themselves home, and somehow Luke wasn't the worst in this after all.
To find out who does leave Paradise coupled up, you can tune into the finale on Tuesday, Sept. 17 at 8 p.m. on ABC.