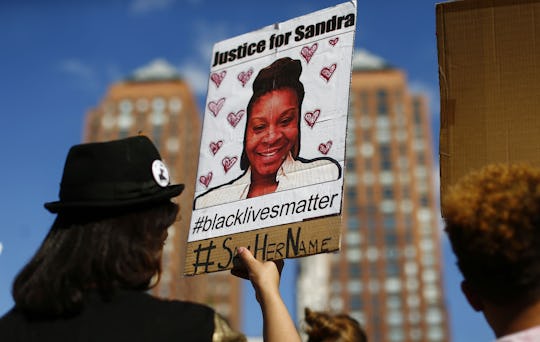 KENA BETANCUR/AFP/Getty Images
Brian Encinia Indicted On Perjury Charges In The Sandra Bland Case — REPORT
There may finally be legal action in response to Sandra Bland's death. The New York Times reported on Wednesday that Texas State Trooper Brian Encinia had been indicted on perjury charges in connection to Bland's case. Special prosecutors alleged that Encinia was not truthful in part of his account of the arrest.
According to The Wall Street Journal, the perjury charge is a misdemeanor. Encinia could face "one year in jail and up to $4,000 in fines" if found guilty. CBS News reported, "Encinia is accused of lying about how he removed Bland from her vehicle." Since Bland's death, "Encina has been on desk duty."
Bland's arrest became a point of national scrutiny after she was found dead in July. The New York Times described the moment when Bland was pulled over during a routine traffic stop on her way to a new job in Texas:
A police dashboard-camera video shows an escalating confrontation after Ms. Bland refuses Trooper Encinia's request to put out a cigarette. At one point, Trooper Encinia says he will forcibly remove her from her car and threatens Ms. Bland with a Taser, saying, 'I will light you up.'
Bland was put in jail following the incident. She "was found hanged with a plastic trash can liner" in her cell, and her death was ruled a suicide. The grand jury previously stated that it would not indict any jailers.
Some have expressed skepticism that Bland's death was a suicide. The Wall Street Journal reported that her family believes Bland was looking forward to beginning her job at Prairie View A&M University. They've also claimed that prosecutors have not maintained consistent communication during the grand jury process, but a special prosecutor claims that isn't accurate. The wrongful-death lawsuit Bland's family is pursuing will go to trial in 2017.
Twitter is reacting to the news of perjury charges:
Bland's death led to activism across the country. The hashtag #SayHerName was often used in connection with the case by Black Lives Matter, who say police disproportionately use deadly force against black people. According to MSNBC, both Black Lives Matter and the New Black Panther Party held protests.
It is possible that Walter County Jail did not follow procedure in Bland's case. MSNBC reported that though jailers are supposed to have hourly check-ins with inmates, Bland wasn't found until approximately 90 minutes after she died. The jail does not have a flawless history, according to MSNBC:
Previously, Waller County Jail had been cited for violations on three occasions: In 2012 for an inmate suicide, in 2014 for an inmate escape, and in 2015 for another inmate suicide.
It's not entirely clear what Encinia's indictment means for the case, but those following the case will be watching to see how legal proceedings unfold.
Image: Getty Images