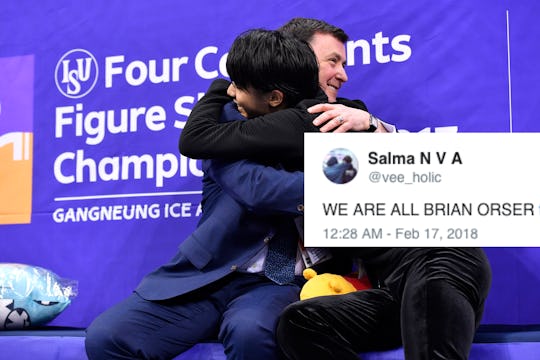 Brian Orser Taking Photos Of His Students At The Olympics Is Every Proud Parent, Ever
You can always count on the Kar-Jenner gang when it comes to providing inspiration for viral memes. That's because the larger-than-life reality star family has proven over the years that there's rarely a dull moment in their crazy world. Perhaps one of the most memorable moments to come from Keeping Up with the Kardashians is the beloved, "You're doing great, sweetie," scene featuring Kris Jenner snapping photos of her daughter, Kim Kardashian, as she poses for a nude photoshoot. Well move over, Kardashians, because a new version of this unforgettable meme has arrived — and it's gotten an Olympic makeover. Because honestly, Brian Orser taking photos of his students at the Olympics is ever proud parent, ever.
But first, let us explore why the Kris Jenner version is so epic in the first place. According to Knowyourmeme.com, the scene went down way back in 2007, during season one, episode four of KUWTK. Like any supportive mother crashing her daughter's nude photoshoot, Kris Jenner was standing on the sidelines offering encouraging words to Kim Kardashian — while making sure to capture the proud moment with her phone, of course. "Kim, you're doing amazing, sweetie," Jenner cheered. Since that episode, both memes and GIFs of the scene have been used online as reactions that comically express encouragement.
Which brings us to Brian Orser. Earlier today, Japan's Yuzuru Hanyu and Spain's Javier Fernández won gold and bronze, respectively, in men's figure skating, reported NBC Olympics. The elated skaters were embracing on the ice, congratulating each other on medaling — while Orser can be seen in the background with an outstretched arm, attempting to get the perfect shot with his phone. You know, like any proud coach/parent would do in a similar situation. When former Canadian Olympian and current coach to these Olympians, Brian Orser, was caught on-camera snapping photos of his two students, Twitter had a field day, reported The Houston Chronicle.
"I LOVE BRIAN ORSER," one Twitter user wrote, alongside screenshots of the coach lurking in the background of Hanyu and Fernández's big moment.
Another Twitter user took the liberty of brilliantly captioning the scene for us, writing, "Yuzu crying into javi's shoulder while saying "i can't do it without you" and shoma awkwardly third-wheeling and patting their backs and brian orser in the background going 'sweeties ur doing amazing' is some kind of renaissance painting," LOL. I couldn't have said it better.
And it pretty much took off from there. "Brian took the 'you're doing amazing sweetie' in a whole new level," one Twitter user wrote.
Others, it seems, could definitely relate to Orser's antics. (I'm gonna go out on a limb and say they're probably parents.)
I mean, come on. How freaking proud must Orser be in that moment? Not one but two of the athletes he's coached won medals at the 2018 PyeongChang Winter Olympic Games. That's some serious coach love going on right there. And really, what parent can't relate to these screenshots? During my 4-year-old's recent preschool program, you can bet my arm was stretched out to its limit to record her class singing, "If You're Happy and You Know It." Within the past two weeks or so, my toddler started semi-accurately singing her ABCs. Of course I whipped out my phone to mark the occasion. And I may or may not have taken photos of all of my children's first poops in the potty.
As hilarious as these Twitter reactions are, it's important to point out that many of us are actually laughing with Brian Orser, not at him. Because at one point or another, we parents have all been there. Still, the question remains: Will these screenshots become as big as the Kardashians' "You're doing amazing, sweetie" moment? I guess we'll have to wait and see.