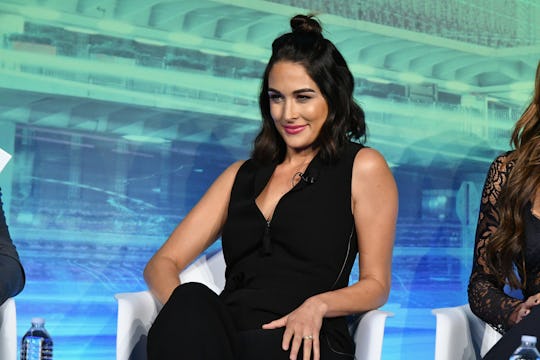 Slaven Vlasic/Getty Images Entertainment/Getty Images
'Total Divas' Brie Bella Is a Mom!
There's a new Total Diva in town! After announcing she was expecting back in October, Total Divas wrestling star Brie Bella finally welcomed her brand new bundle of joy. On Tuesday, Brie Bella gave birth to a baby girl — and the announcement was super sweet, to say the least.
Brie exclusively shared the exciting news and the first glimpse of her baby with E! News on Wednesday, confirming her daughter's birth with husband Daniel Bryan (real name Bryan Danielson) on Tuesday evening. Bella told E! News:
There is no better feeling in the world than meeting your daughter. I can't even express the overwhelming joy and love that Bryan and I are feeling. Now we know what parents mean about the love you feel when you first meet your child. Thank you all for your thoughts and prayers on the safety of Birdie coming into this world.
Seriously so sweet. Bella's comments about the safety of her daughter come on the heels of a recent health scare that put Bella in the hospital. Last Friday on May 5, according to The Daily Mail, Bella was "hospitalized due to issues surrounding her unborn baby's breathing."
"Five days late, she is still not here," Bella said in a YouTube video, taken at the hospital. "My defiant little girl has a mind of her own, very strong - which isn't a bad thing."
Birdie was due on April 30, according to E! News but instead arrived just a little over a week late, yet just in time for Bella's first Mother's Day. It sounds like little Birdie is super strong already. But really, what would you expect from a baby with two professional wrestlers as parents?
But not only is Bella's announcement super adorable, the reasoning behind Birdie's name is just as cute, too. Bella explained to Fit Pregnancy and Baby magazine the reason behind she and Danielson settled on the name Birdie Joe back in March. Bella told the magazine:
Joe is her middle name after my grandfather — his name was Joseph, and he meant the world to me. Birdie is my because my husband and his whole family are 'B's. And he married me, a "B" too, so his one request was our kids have "B" names. I didn't realize how hard it was to find "B" girl names but we both came across Birdie and knew that was it!
Yet, despite her tough persona and day job, Bella told Fit Pregnancy and Baby that she was kind of scared about giving birth. "Childbirth is going to be more painful than wrestling but I know I will survive," Bella said.
Bella did indeed survive — and the whole announcement could not have been any cuter.
Congratulations to the very happy new parents!