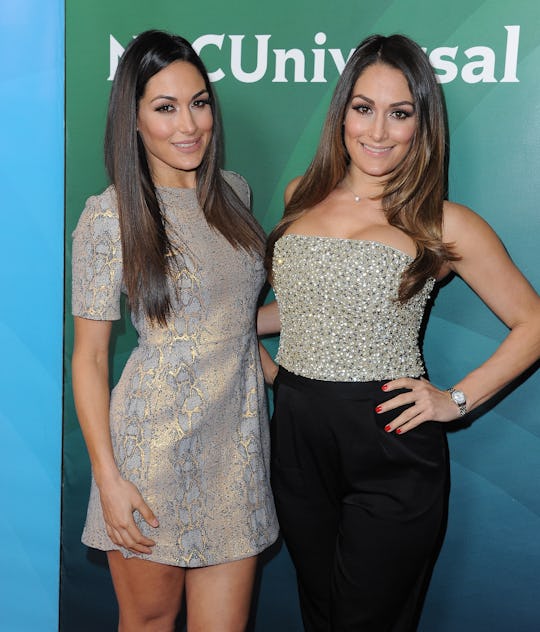 Angela Weiss/Getty Images Entertainment/Getty Images
The Unique Reason Brie Bella Had A C-Section
WWE star Brie Bella had some pretty unique issues in delivering her firstborn. Her twin sister, fellow wrestler Nikki Bella, shared that Brie Bella had a c-section after 22 hours in labor for a very specific reason. Though it wasn't the initial plan, a cesarean birth was Brie's only option in the end.
"She tried to go natural, and it was like eight or 10 hours into it had to get an epidural," Nikki told E! "In the end, [Brie] had to get a C-section." But what caused the sudden change in plans? Nikki insisted: "Her abs were too tight! Go figure. Leave it to the WWE Superstar, abs too tight!"
Pretty wild, huh? Is being too fit to give birth actually a real thing? A little research shows that it's definitely happened before among mommas with six packs. Personal trainer and Instagram fitness guru Chontel Duncan suffered similar issues in having her first baby, Jeremiah, in October of last year. A (now deleted) Instagram post shared that doctors "struggled to rip Jeremiah from [her] tummy as [her] abs locked him in super tight." As a result, Duncan suffered a pretty deep scar. "This is why my scar was cut up on my right side because the surgeon had to cut me further an use forceps to successfully get Jeremiah out," the post read. "Perhaps a down side to a strong core," Duncan conceded.
But even a tricky c-section can't bring Brie down. The Bella twin has been sharing baby snaps on her Instagram since the little one's birth, eager to celebrate little Birdie Joe. This cute one below embodies all of her enthusiasm:
The Mother's Day inspired caption reads:
After experiencing 21 hours of labor, I give all the mamas out there a Hip Hip Horray!! The world couldn't go round without mom's. Make sure to tell your mom today how much you love her because the moment she had you she gave you her heart. ❤ so honored I get to celebrate this holiday as a mom, it's been a dream of mine. Love you Birdie!! [sic]
Birdie's definitely got some strong and devoted parents. Brie's husband, Bryan Danielson, marveled at his wife's tenacity: "This woman is a warrior. What she went through on Tuesday — never in my life could I do that." Of course, in addition to Danielson, Nikki's totally got Brie's back, too; Brie shared that Nikkie was "by [her] side the whole time."
Birdie's "truly the greatest gift you could ever receive," a celebratory Instagram posts by Brie reads. "I thank the Lord so much for this precious little angel." Welcome to the world, Birdie! It might have taken a little extra work to get you here, but your family is so happy to have you.