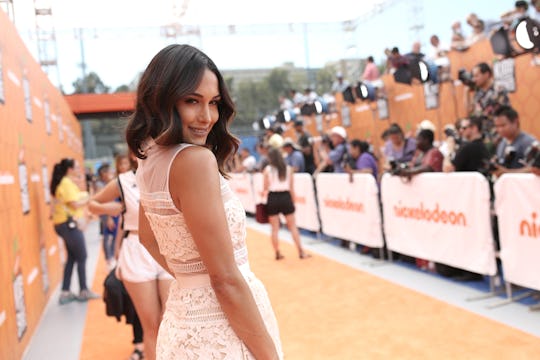 Mike Windle/Getty Images Entertainment/Getty Images
Brie Bella's Refreshing Take On Her Postpartum Belly
Not that we needed another reason to love the Total Divas star, but we got it anyway after Brie Bella revealed she's proud of her postpartum belly. The new mama and husband Daniel Bryan welcomed their baby girl, Birdie Joe Danielson, earlier this month and Bella has been sharing this new exciting journey with her fans on social media ever since. In a recent post on Instagram, the 33-year-old wrestling pro snapped a proud selfie at the gym while showing off her post-baby body.
"17 days since I've given birth and I have zero shame in my postpartum belly!!" Bella captioned the post. "Graced with some stretch marks and 20 more pounds to lose I'm finally able to start a little cardio."
"Join me on my journey to getting back my pre-pregnancy body. It's gonna be a long road but I'm ready," she continued and directed fans to head over to her YouTube channel to follow her fitness journey.
While every pregnancy is different, it's generally safe for most new moms to begin exercising a few days after giving birth or "as soon as you feel ready," according to the Mayo Clinic. But for those who needed a C-section ― like Bella did because her "abs were too tight," according to People ― the recovery time can be much longer.
No matter the method of delivery, getting back into the swing of things can be difficult and Bella's take on her getting her pre-pregnancy body is so refreshing and realistic ― even if she is a professional athlete who is used to a rigorous workout routine.
In addition to this honest post, Bella also shared with her followers how tiring and rewarding breastfeeding can be. "Breastfeeding got me like," she captioned a selfie of her feeding her newborn complete with several sleepy emoji.
"[Breastfeeding is] literally my most favorite thing ever but wow it's exhausting.....but I wouldn't change it for the world," she wrote.
And she's right. There are so many benefits of breastfeeding and lots of new moms complain of fatigue as a major side effect, which happens for a number of reasons. But whether it be from the new time commitment, the additional calories burnt, or the new hormones, breastfeeding can be physically exhausting.
Aside from the new sources of exhaustion that motherhood comes with, Bella told E! News shortly after she gave birth that the new parents' bundle of joy has brought them an indescribable amount of happiness.
"There is no better feeling in the world than meeting your daughter. I can't even express the overwhelming joy and love that Bryan and I are feeling," Bella told E! News. "Now we know what parents mean about the love you feel when you first meet your child."
It's been two weeks since Bella gave birth and she seems to be enjoying every exhausting and challenging moment her little one throws her way, including a long fitness journey ahead of her. And the love she has for her postpartum belly too is an empowering to all new moms.