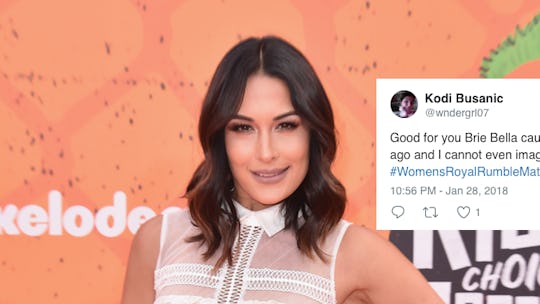 Alberto E. Rodriguez/Getty Images Entertainment/Getty Images
Brie Bella Returned To Wrestling After Maternity Leave & Fans' Reactions Were So Sweet
Get ready to meet your new hero. Though she's well-known among WWE fans, those who are more interested in the Grammys might not realize that Brie Bella returned to wrestling after maternity leave for the first-ever women's Royal Rumble match on Sunday night, and the internet gave her such a supportive welcome back. I know it can be tempting for women to compare ourselves to other moms, but let's all put away our jealousy pants for a moment and join the Bella Army in congratulating our sister for attaining that most elusive of goals, officially Having It All™.
She's got the husband, the baby, the career, and — let's be honest — the athletic bod, too. Obviously, not every woman has identical goals, nor should they be expected to, but that's apparently what Bella wanted, and she went out and got it. Just for perspective, raise your hand if you remember with stunning clarity the first time you wore a bikini after giving birth. How about your first day back at work? I'm guessing both were rather challenging, no? OK, so imagine doing both at once. Right, there you have it. This broad is tough. And after nearly two years away from the ring, Bella placed third among the 30 women competing in Sunday's match.
Bella entered a temporary retirement in April 2016, when she and her husband, Bryan Danielson, began trying to conceive. "We're going to start having babies, so I have to put my career on hold," she told WWE.com at the time. "I hate saying retirement because after I have kids, I would love to make a comeback into the ring. I just don't know the timing of it."
That timing came as a bit of a surprise for Bella, as it does for many (if not most) mothers. "You spend your adult life trying not to get pregnant, so I thought having it happen would be immediate," she told Fit Pregnancy last year. "After months of negatives, I just figured it would be negative. When I saw the positive — you know, I'm an athlete — it felt like I had won a championship!"
Bella and Danielson welcomed their daughter, Birdie Joe, on May 9. "There is no better feeling in the world than meeting your daughter," she told E! News the following day. "I can't even express the overwhelming joy and love that Bryan and I are feeling."
Soon afterwards, Bella was working to get back into fighting shape. Just 17 days after giving birth, she posted an Instagram photo of her still-stretched out stomach, captioning it, "I have zero shame in my postpartum belly!! Graced with some stretch marks and 20 more pounds to lose I'm finally able to start a little cardio. Join me on my journey to getting back my pre pregnancy body."
Fans were inspired by her drive, and her honesty, with one commenting:
You are beautiful! And I think it is awesome and encouraging for all women that you had the courage and confidence to post this pic and keep it real unlike so many celebrities that all of a sudden have flat bellies 2 months after having a baby!! Congrats again and welcome to motherhood most amazing thing in the world!
A few months later, Bella settled on a more realistic goal than that old cliché of getting her body "back." In another Instagram post in September, she wrote, "It really took me awhile to love my new curves. After giving birth I honestly thought I'd bounce right back."
After initially feeling guilty, Bella wrote, "I looked in the mirror and said F it, this is my new body and I'm going to love every bit of it!!! This body created a human and I couldn't be more grateful for that ... Cheers to all the Moms and all the different stages of life we go through!!"
After giving birth, you're a new person with a new body, and there's no way to change that. But as Bella showed fans on Sunday night, that new body can still kick some serious butt.
Check out Romper's new video series, Romper's Doula Diaries:
Watch full episodes of Romper's Doula Diaries on Facebook Watch.