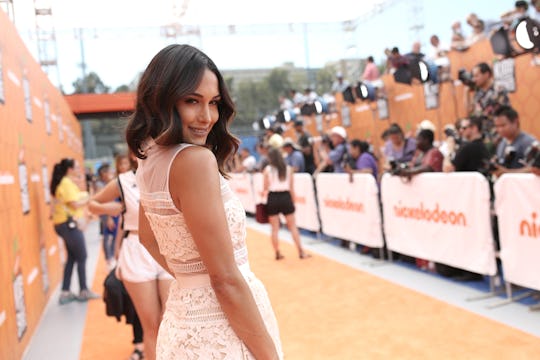 Mike Windle/Getty Images Entertainment/Getty Images
Brie Bella Gives A Video Update After "A Very Long Labor"
Total Divas fans were elated when wrestling and reality star Brie Bella gave birth to a baby girl on Tuesday. The new mother, alongside her former wrestler husband Daniel Bryan (real name Bryan Danielson) surprised fans with the sweetest announcement ever on Wednesday. And a few short days later, Brie Bella's video after "a very long labor" updates fans on her new daughter, letting everyone know that she is doing OK. Seriously, the video could not be any sweeter and shows just how much Bella cares about her fans, even after giving birth.
Bella gave birth on Tuesday, May 9 to a daughter, Birdie Joe Danielson. "There is no better feeling in the world than meeting your daughter," Bella told E! News. "I can't even express the overwhelming love and joy that Bryan and I are feeling." In the same vein, Bella continued to update fans on her status, posting a video to her YouTube account on Friday, taken from the hospital. In the video, Bella updates everyone about her and her new daughter's condition after giving birth. Telling fans:
It was a very crazy process and a very long labor and I'm so lucky I had Bryan by my side the whole time and then my sister by my side the whole time. But at the end of something so hard and long the most precious gift in the world came to us. So we couldn't be happier.
Bella continued:
Thank you for all of your love and support and Miss. Birdie here will one day soon say "hi" to all of you but she's sleeping right now so we don't want to wake her.
In the video Danielson calls Bella a "warrior" saying that he could never get through what she went through. To hear that from these two professional wrestlers shows that giving birth is an admirable feat from two people who know how to bring pain and take a hit. In fact, Bella was nervous about giving birth to begin with, opening up to Fit Pregnancy and Baby about how the pain associated with childbirth scared her. "Childbirth is going to be more painful than wrestling, but I know I will survive," Bella said.
Bella's recovery update from the hospital is very much welcomed, as little Birdie was born over one week after her expected arrival. Just before giving birth Bella was hospitalized, according to the Daily Mail, due to issues surrounding Birdie's breathing while she was still in the womb. Luckily, both baby and mom were OK.
Bella's update about her very long labor show that both mother and baby are happy and healthy.