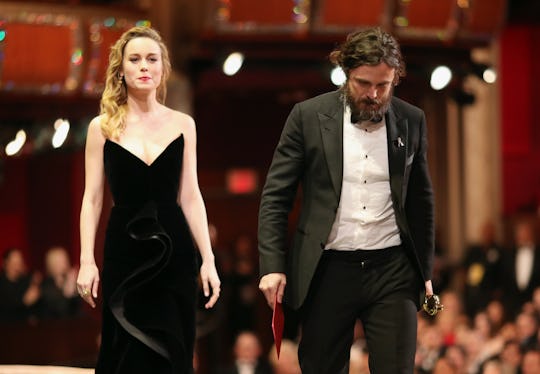 Christopher Polk/Getty Images Entertainment/Getty Images
Brie Larson's Oscars Reaction "Spoke For Itself"
It may have been a silent and subtle reaction, but Brie Larson not applauding Casey Affleck at last month's Oscars ceremony said everything without saying anything at all. The Oscar winning actress broke her silence about her muted response of disappointment to Affleck's Oscar win recently, saying that she intentionally stepped back and stood quietly with her hands at her side after she gave Affleck a quick hug as he accepted his award for Best Actor. This was quickly interpreted on social media as silent form of protest, as the Manchester by the Sea actor was previously sued by two women for sexual harassment and verbal abuse, which he's repeatedly denied. The alleged incidents reportedly happened during the filming of I'm Still Here and were both settled out of court in 2010, but the instances made headlines again last fall after buzz first began over Affleck's Oscars potential.
"I think that whatever it was that I did onstage kind of spoke for itself," Larson told Vanity Fair at the premiere of her latest movie, Kong: Skull Island, referring to her much-discussed response. "I've said all that I need to say about that topic."
Larson has been a vocal advocate for sexual assault survivors, whether it be through her onscreen performances or her silent onstage demonstrations. She won the Best Actress Oscar last year, as well as several other awards, for her portrayal of a sexual abuse victim in the drama Room, which tells the harrowing story of a kidnapped woman who was raped and gave birth to her son while she was held captive for seven years.
Larson's empathy for sexual assault survivors is genuinely apparent, considering that she completely immersed herself in her role, isolating herself from the outside world for a month and meeting with psychologists to understand the trauma of her character, according to The Huffington Post.
She went on to win the coveted award for the role at last year's Academy Awards, but just moments before she did, Larson stood up and hugged each sexual assault survivor that had shared the stage with Lady Gaga during the singer's performance of the powerful anthem for sexual assault victims, "Till It Happens to You."
The next time Larson took the award stage was to hand off Hollywood's most prestigious award to a man who has been surrounded by controversy for his alleged treatment of numerous women.
Millions of viewers watched the uncomfortably ironic moment unravel in February. And while most Oscar attendees got out of their seats to give Affleck a standing ovation, it was Larson's underwhelming reaction that had everyone talking. If nothing else, it gave sexual assault victims the attention they deserved and reignited another crucial discussion.