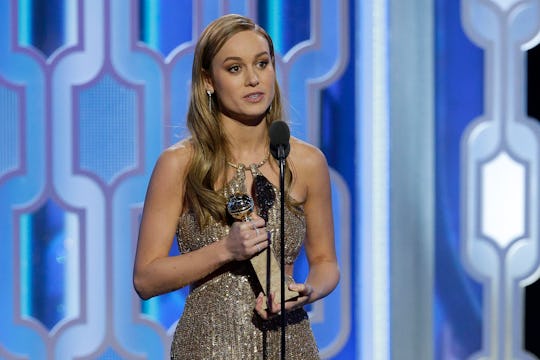 Paul Drinkwater/NBCUniversal via Getty Images
Brie Larson's Golden Globes Dress Looks A Lot Like Princess Leia's Slave Dress & People Are Loving It
Golden Globes Best Actress winner Brie Larson seems like she can do no wrong. From an awesome role in Amy Schumer's Trainwreck to her universally lauded performance in The Room, which many predict will earn Larson a Best Actress in a Drama nomination at the upcoming Academy Awards as well, she's basically on fire. But that doesn't mean the girl can't take a cue from a classic! As people watching the E! Live From the Red Carpet pre-show were quick to note, Brie Larson's Golden Globes dress looks like Princess Leia's slave outfit from Return of the Jedi.
Larson, who is a frontrunner for the Best Actress In A Drama Film trophy (and eventual Oscar), is also a frontrunner for best look of the night. Her gorg, gold dress was a custom design from the Calvin Klein Collection and featured hand-embroidered topaz crystal gown. As if that doesn't sound amazing enough, she completed the look with some killer Salvatore Ferragamo shoes. #FashionGoals, right?
The top part of the dress was particularly reminiscent Princess Leia's famous look from her days in the lair of Jabba the Hutt way back in 1983. It isn't a total throwback look, though, considering how en vogue all things Star Wars are these days. And just like Leia, Brie totally pulls off the look.
And now, for the sake of comparison:
And what people think about it:
In the past, the first-time Golden Globes nominee said she got nervous about walking the red carpet. But, speaking to In Style in 2014, she said she hit her stride when she started accepting it was a great time to dress up. "In my day-to-day life I'm not really one to get dressed up or put on makeup, so I'm finding that it's such a fun time to play dress up," Larson said. "I'm learning that the power of the right outfit can totally change your perception and confidence level." At the time, she also hinted that a dress such as this may be in her future: "I tend to go for things that feel heavier and are like armor."
It's also fitting because Larson said she bonded with her young Room co-star Jacob Tremblay over his love of Star Wars. "He had these little Star Wars Lego figurines, and so I started asking him about Star Wars," Larson told EW of one of their first meetings. Aww!
After starting off the awards season with a dress that pleases fashionistas and Stars Wars fans alike (although those groups aren't mutually exclusive!), I'm more excited than ever to see what Larson delivers the rest of the year.
Images: Paul Drinkwater/NBCUniversal via Getty Images; Frazer Harrison/Getty Images