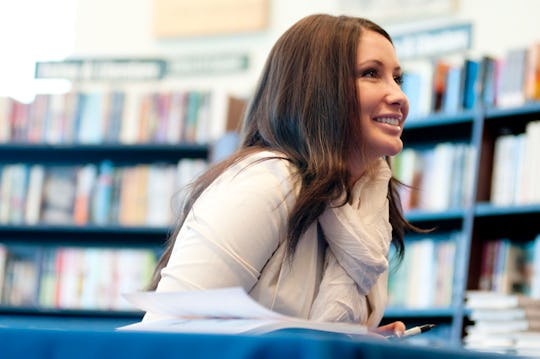 Laura Segall/Getty Images Entertainment/Getty Images
Bristol Palin Gives Birth To Baby No. 3
Oh happy day! Bristol Palin gave birth to her third baby this week, sharing the news via a sweet Instagrammed birth announcement from the hospital room. This is her second child with husband Dakota Meyer. The 26-year-old welcomed a second daughter, named Atlee Bay. The couple has another daughter together, 17-month-old Sailor Grace, born in December 2015. Palin is also the mother of 8-year-old son Tripp, with ex-fiancé, Levi Johnston.
Palin announced she was pregnant with her third child last December, telling Entertainment Tonight in a statement her family would welcome a "springtime baby in the Meyer home." In March, Palin revealed she was having another baby girl in cute gender reveal Instagram post with the caption, "Dakota and Tripp officially outnumbered." Palin's 28-year-old husband Dakota, a U.S. Marine vet who was awarded the Medal of Honor, is also over the moon about their latest addition to their family. Meyer posted the same black and white birth announcement photo of himself and his wife with new daughter Atlee to his Instagram, along with hashtag #dadlife.
While Palin and Meyer have not yet shared why they chose the name they did for their daughter, the baby name Atlee does have a beautiful springtime meaning. According to Nameberry, Atlee is a variation of an Old English word for meadow.
Palin and Meyer were married in a private ceremony in June 2016, after originally calling off their wedding a year prior. The news came as a surprise to many, given Palin's on-again, off-again relationship with Meyer. In March 2015, the couple became engaged, but called it off just two months later. At her blog, Palin called the decision to call off her wedding a "painful time" for her family and friends. The following month, Palin announced she was pregnant with her second child and that Meyer was the father.
Palin's famous mom — former governor of Alaska turned vice presidential candidate turned conservative pundit, Sarah Palin — has not yet publicly commented on the news of the birth of her fifth grandchild, but told E! News in July that she loved being a grandmother. Palin said at the time, "It sounds cliché that being a grandma is such a blessing." She continued:
You can just enjoy this child so much. Everything that you have learned raising your own kids, you can put the good things into play with the grandchild. But it's not cliché, it's real. It's true! Everything that is good about being a mom, that's exacerbated being a grandmother.
Yay for babies!