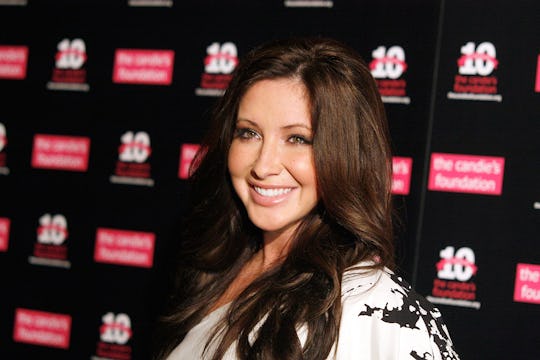 Andy Kropa/Getty Images Entertainment/Getty Images
Fans Have A Lot Of To Say About Bristol Palin Reportedly Joining 'Teen Mom OG'
You might want to sit down for this one, Teen Mom OG fans. TMZ first reported on Thursday that Sarah Palin's daughter, Bristol Palin, will reportedly join Teen Mom OG for Season 8. Yup, let that one sink in. The surprising news comes after Farrah Abraham left the series in October 2017. So, what's the deal with this supposed casting? It's safe to say fans are royally confused about this latest development. MTV and 11th Street Productions did not immediately respond to Romper's requests for comment about the reported casting news.
When Abraham and MTV parted ways, there were a bunch of rumors floating around about the mom's replacement. Teen Mom 3 alum Mackenzie McKee was supposedly a contender, but she was edged out in favor of Challenge star Cheyenne Floyd, according to TMZ. Radar Online reported in June that Floyd started the filming process, but her contract wasn't set in stone.
Well, it looks like Floyd didn't sign a contract because Palin is reportedly joining the cast. Production sources reportedly told TMZ on Thursday that Palin has "signed on" to be a "regular" on the series.
On paper, it looks like Palin is a perfect fit for the cast. Palin got pregnant with her son, Tripp, when she was 17 years old, and she had a fraught relationship with her son's father, Levi Johnston, according to Radar Online.
Now that Palin is a 27-year-old mom of three, she has even more to offer the show. Palin's storylines will likely center around parenting in a new place (she just moved to Texas from Alaska in May 2017), co-parenting with an ex, and the fact that her husband, Dakota Meyer, filed for divorce in February 2018, according to People. There's a possibility, however, that the two are back together or possibly working things out; Palin posted a heartfelt message to Meyer on his birthday in late June.
Oh, and who could forget Palin's family drama. Her mom, former vice presidential candidate, is still making headlines, and her older brother, Track Palin, has been in the news for reported run-ins with the law, according to the Anchorage Daily News. In short, it's never a dull day in the house of Palin.
Still, as much as Palin might be a good fit for the show, it's still a bit ... random. And some people are downright confused about the casting choice.
"I am so confused. This makes no freaking sense," a fan wrote on the Teen Mom reddit. "Why didn't they just start another show? I just don't understand. Like at all. I don't want to watch these people. We've missed half of their stories already. They don't even go here!!!"
"Surely MTV is just trolling us now," someone else said.
"What the f**k? Just cancel the f**king show MTV this doesn't even make any sense," one particularly irate commenter penned.
"When I first saw the headline about Bristol Palin joining the cast of Teen Mom OG, I thought it was an article by @TheOnion," a commenter joked on Twitter.
"Bristol Palin is joining the cast of MTV's Teen Mom," another user added. That's a joke in itself so I don't need to come up with one about it."
"Bristol Palin is joining Teen Mom. Man, 2018 is bugging," a fan stated.
Others promised to bail on the show due to some of Palin's problematic views, such as when she criticized President Barack Obama's stance on gay marriage, as outlined by The Hollywood Reporter.
" ... If mtv actually gave a flying f*ck about the LGBT community they would never have hired her," someone argued.
Another person chimed in: "I'd much rather see how some of the girls we came to know on 16 and Pregnant have fared over the years rather than someone who has gone on record with hateful views on many things, including same sex marriage."
"I just saw that Bristol Palin was joining the Teen Mom OG cast with Cheyenne so I went to look her up and apparently she's a homophobe," a commenter on Twitter wrote. "The b***h done got cancelled before I even knew who she was smh."
And a few people expressed their displeasure with GIFs:
Fans aren't the only ones frustrated by Palin's reported casting. In a statement to Us Weekly about the rumored development, Abraham said: "Who cares! Sorry I'm dealing with a family loss right now. I don't care as there's no replacement for me, as we all know." Tell fans how you really feel, Abraham.
If the casting news about Palin is true, one can hope she'll be a positive addition to the show. People can change, after all, and maybe some parents will be able to relate to her story. You never know.