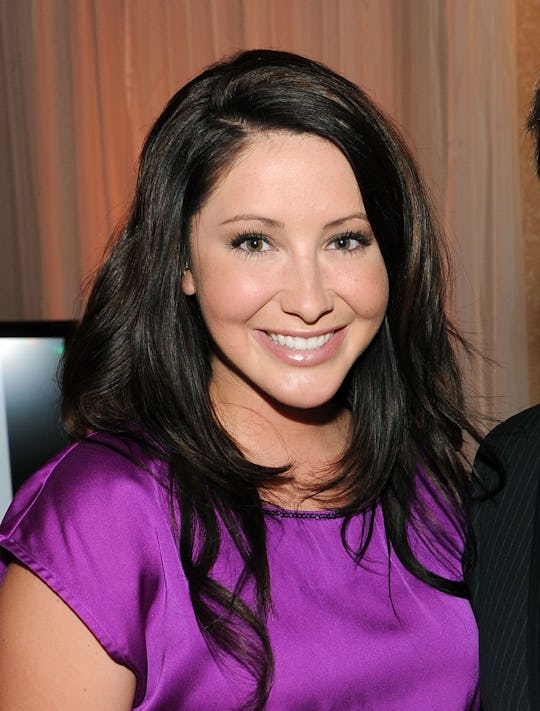 Larry Busacca/Getty Images Entertainment/Getty Images
Bristol Palin Says Her Life Isn't Perfect In The First Look At 'Teen Mom OG'
When MTV announced Bristol Palin would be replacing Farrah Abraham on Teen Mom OG, there was plenty of negative feedback from fans. There was also a fair amount of confusion because, wait — how is the daughter of former Alaskan governor and former vice-presidential candidate, Sarah Palin, part of the original 16 and Pregnant gang? At 27, she's not exactly a teen mom at this point, either. It was an odd fit for a lot of fans, to be sure. Yet somehow, the idea of hearing Palin's teen mom story is intriguing — and fans recently got their first glimpse of the mom of three on the reality show. That's because Bristol Palin says her life isn't perfect in this new Teen Mom OG trailer.
On July 20, Palin confirmed reports of her being casted for the upcoming season of Teen Mom OG. The young mom of three took to Instagram to share a photo of herself and alongside her kiddos — and with a film crew hanging out in the background, according to HuffPost. "I am excited to join MTV's 'Teen Mom OG,'" she wrote. "I look forward to sharing my experiences and hope that I can help others on their journey." Palin will be joining returning cast members Maci Bookout, Catelynn Lowell Baltierra, and Amber Portwood.
Now, in a newly-released teaser trailer for the upcoming season, fans got their first glimpse of Palin on Teen Mom OG. The teaser was released on Monday evening, during the MTV Video Music Awards, as ET Online reported. In the clip, Bristol is sitting down with her own mother to chat about joining the show. "I was a teen mom," Bristol says. "My life is not perfect at all."
"Amen," Sarah answers.
"I wanna do what's best for my kids," Bristol adds. And honestly, that's pretty much all of a teaser that fans got.
If you remember, Bristol is mom to son Tripp Johnston (whom she delivered back in 2008, at age 18, according to E! Online), along with daughters Sailor Meyer, 2, and Atlee Meyer, 1.
Based on the Twitter commentary, it seems like this teaser did nothing to convince fans that Palin is a compelling addition to the Teen Mom OG family. One Twitter user wrote, "I hope MTV is ready for #TeenMomOG to go down the tubes when Bristol Palin starts her season. The other diehard fans are probably just like me...Pissed! They call it #TeenMomOG for a reason. The OG stands for Original Girls!."
Another person tweeted, "Again, this is the worst decision ever. She is not a part of the franchise and completely irrelevant. This is ORIGINAL GIRLS. End of discussion. "
Yet another Twitter user chimed in with the below:
Clearly, longtime fans of the MTV reality series are still less than thrilled about Bristol Palin has joined the cast. Her mom Sarah, on the other hand, fully supports Bristol's decision. TMZ caught up with the former vice-presidential candidate in June to ask her about Bristol's upcoming gig with Teen Mom OG. "Bristol's gonna be a great messenger for kind of overcoming a little bit of challenge and doing well in life," Palin told TMZ. "The girls, my daughters, have been telling me who all the characters are, kinda trying to catch up, but my daughters — Bristol and Willow and Piper — they all have great respect for some of the girls who have really overcome some obstacles and done well with their children." Palin added:
[Bristol] sees this as a venue, as a forum for good, to help people in a hurtin' world so I encourage her to do this. I support her doing this and I'm proud of her.
So who knows? Maybe fans will eventually warm up to the idea of Bristol Palin sharing her teen pregnancy/teen motherhood story. For those who are still planning on tuning in — regardless of Palin being added to the show — the new season of Teen Mom OG will air at 9 p.m. (ET) on Monday, Oct. 1. One thing's for sure: It's bound to filled with plenty of drama.