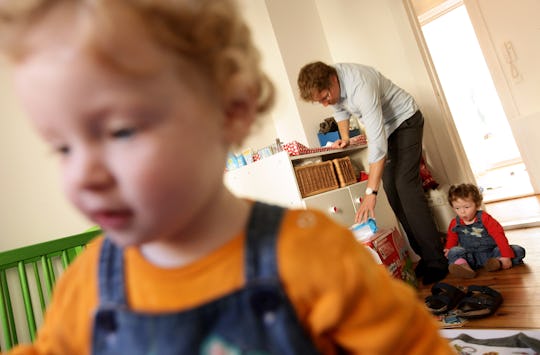 Sean Gallup/Getty Images News/Getty Images
Britain Is Banning Ads With This Ridiculous Dad Trope
Unfortunately, gender stereotypes for parents are an all too common phenomenon. Time and time again, society assigns mothers and fathers parenting roles solely based on gender, a move that can be especially detrimental to kids. One of these inane tropes is the idea that dads are helpless fools when it comes to parenting their children. Although this notion is frequently bandied about in the media, Britain is banning ads depicting dads struggling with parental duties like changing diapers, for instance. Considering America has taken no official stance on sexist parenting tropes in ads, Britain's decision is a major deal.
In case you were unaware, Britain has an advertising industry regulator called the Advertising Standards Authority (ASA). The ASA's job is to monitor ads across various media platforms to ensure certain standards are upheld. The ASA's main goal is to ensure consumers are not "misled, harmed or offended by ads," and that a sense of "fair competition" exists among advertisers, according to the ASA's website. In America, advertisement concerns and issues are handled by the Federal Trade Commission.
In the ASA's efforts to protect British consumers, it conducted a study that found children need to be protected from "harmful" stereotypes in ads. The ASA's report said:
Overall, young children appear to be in particular need of protection from harmful stereotypes as they are more likely to internalise the messages they see. However, there is also significant evidence of potential harm for adults in reinforcing already internalised messages about how they should behave and look on account of their gender.
Although this finding might seem like a no brainer, it's clear there was enough of a problem to warrant the ASA's investigation.
To further cement its findings, the ASA invited 37 stakeholders to attend seminars on gender stereotyping in ads. At the seminars, the stakeholders discussed particular ads and tropes they found to be of concern, including the media's depiction of the "doofus dad," according to the ASA's report:
Some attendees noted that creative treatments of men in ads often portrayed them as a doofus dad who was incompetent at parenting and housework. They felt this represented a significant disservice to many men and families where childcare and housework was shared equally between mums and dads. This also reinforced the stereotype that women were more naturally suited to those roles than men.
In America, this "doofus dad" trope was depicted in Huggies controversial 2012 campaign, "Have Dad Put Huggies To The Test." Although the ad was troublesome for a myriad of reasons, it received a ton of backlash for its assumption that dads are clueless when it comes to changing diapers. It also implied that dads rarely spend time alone at home with their kids. Following immense public pressure, Huggies removed the ad.
Another important aspect the ASA's report honed in on was the "cumulative" effect of ads. Although an ad in "isolation" isn't necessarily a major problem, repeated exposure to gender stereotypes can have long term effects.
The ASA report said:
We heard a lot about the cumulative effect of ads that in isolation aren't necessarily a problem, but build up a strong message over time about how children and adults should look or behave because of their gender.
Based off the ASA's findings, it's more than evident that Britain made the right move in the battle against gender stereotypes. Not only did the country send the message that it cares about children's futures, but it's also made clear that sexism has no place in advertising. When you consider British children "aged five to 16 spend an average of six and a half hours a day in front of a screen," according to the BBC, this is a huge win for dads and moms. Now that Britain has taken a stand against gender stereotypes, hopefully America will follow suit.