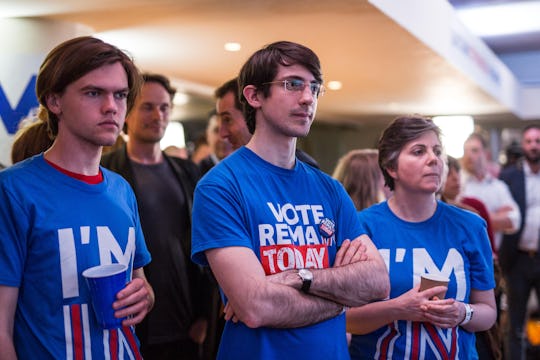 Rob Stothard/Getty Images News/Getty Images
Britain Votes To Leave The EU & Sends Shockwaves Across The Globe
After a vicious back and forth, British citizens cast their ballots on Thursday to either remain with or depart from the European Union, and just before 5 a.m. BST, the results were unofficially in: Britain had voted to leave the EU. Numerous U.K. news outlets, including The Telegraph, the BBC, Sky News, and ITV News made the Leave call, which the Labour Party's Remain MP Chuka Umunna calling the event "seismic." As news began hitting headlines, it seemed much of the public agreed.
"We are a very diverse district and in the Lancaster town part of it, a liberal university town, every single district voted to remain," James Groves, the referendum agent for the In campaign stationed in the county of Lancashire, told The Telegraph. "It was all about immigration and jobs and I think we have to look at why that resonated so much."
Across social media, many expressed disbelief and anger. "The English, after a decade of feeling like a minority in 'their own' country (please note scare quotes), have reasserted overt dominance," Max Fisher of The New York Times wrote. Another user, who identified himself as English, simply tweeted, "I'm embarrassed and saddened by the Brexit results."
The Brexit shockwaves were felt almost immediately, with markets reacting wildly; British economists who woke to the news realized that their worst fears had potentially come to fruition. The pound was down by nearly 12 percent against the dollar within the hour, having plummeted some 10 percent throughout the previous day amid fears of a potential Leave victory. In the United States, Dow futures predicted the market would open down a whopping 700 points. The financial backlash, however, did nothing to shake U.K. Independence Party leader Nigel Farage, who seemed energized by the market drop.
"The dawn is breaking on an independent United Kingdom," Farage, who came under fire recently for his controversial "Breaking Point" poster featuring crowds of refugees "flooding" into the country, delightedly told Leave supporters at a rally, according to the Associated Press. "Let June 23 go down in our history as our independence day!"
Globally, the outlook was not so bright. "This result will come as a surprise to markets, based on Thursday's pricing, and creates material political and economic uncertainty in Europe," Morgan Stanley strategist Andrew Sheets wrote in a memo to clients, according to Business Insider. According to the outlet, Sheets and his team predicted that European stocks could potentially plummet "15 to 20 percent from their close on Thursday," noting that "the British pound could collapse as well."
As Vox's Timothy B. Lee noted on Thursday, the Brexit vote was not legally binding and would likely take years to fully take effect, given that it could hypothetically be overturned. But, he wrote, quoting the BBC, "it would be seen as political suicide...."
Much of the fuel stoking the Leave vote revolved around anxious voters who saw the country's future with the EU as damaging. Much of the fear hinged on topics like fair trade and immigration, with Leave supporters' grievances seemingly familiar to American onlookers.
"We're letting in rapists. We're letting in sh--," Zack Beauchamp over at Vox recalled one Brexit supporter telling him at a London pub recently. "I have four children. How are they supposed to get jobs?"
The Donald Trump comparisons are largely understandable. "Tens of millions of Britons voted for isolation — to go it alone — rather than for cooperation," Brian Klaas and Marcel Dirsus wrote in an op-ed for The Los Angeles Times on Thursday, adding,
The quintessential anti-EU voter, an aging unemployed white working-class citizen in northern England, might feel a certain solidarity with a similar Trump voter in rural America. Both have reason to feel victimized by a global economy that has left them behind. Both have concluded that the culprits are out-of-control immigration and an unresponsive government far away, in Washington or Brussels. And both have decided the answer is disengagement, solving problems alone at home rather than preventing them through cooperation abroad.
While the financial implications of the unprecedented Brexit vote are certainly dire, the news is perhaps most heavily felt among the youth electorate, who largely voted to Remain, according to aggregated numbers compiled by The Wall Street Journal.
In a single, pop culture-inspired tweet, one Twitter user summed up the Remain campaign's feelings. "Winter is coming," she joked.
If only the future battle were that simple.