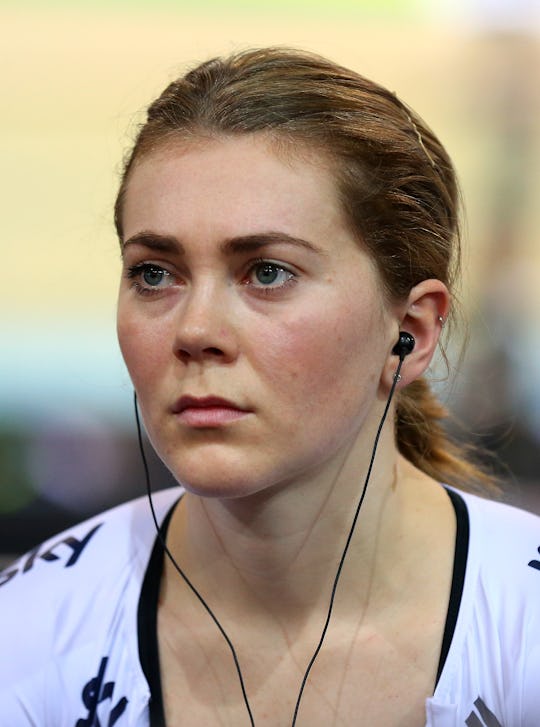 Alex Livesey/Getty Images Sport/Getty Images
British Cyclist Jess Varnish Reportedly Told To "Go Have A Baby" & Sexism Is Alive & Well
British Cycling has continuously delivered on its Olympic motto "Faster, Higher, Stronger" with numerous gold medals and unbeatable track records. Now, the organization has found itself in hot water over some allegedly sexist comments the sport's chief was accused of making to an accomplished female cyclist. According to a recent interview she gave to The Daily Mail, British cyclist Jess Varnish was reportedly told to "go have a baby" after she was dropped from from the Olympic team — and it reportedly wasn't the only she had experienced that level of sexism in her athletic career.
According to Varnish, British Cycling technical director Shane Sutton allegedly told the 25-year-old that she should "just move on and get on with having a baby." Varnish claimed Sutton made the sexist comments after she didn't qualify for the women's sprint team and was cut from the team. She alleged that Sutton made the sexist remark as she went to collect her belongings.
Sutton "wholeheartedly" denied the claim, issuing a statement through the British Cycling website which in part read,
I wholeheartedly deny that I said or did anything other than act with complete professionalism in my dealings with Jess. As with all other riders on the track programme, she was subject to a performance review following the worlds and the data did not justify Jess retaining a lottery-funded place on the podium programme as an athlete with medal potential in this Olympic cycle or the next. Jess has been a great athlete to work with and it's important to me that the valuable contribution she made to British Cycling and women's cycling during her time on the Great Britain Cycling Team is not forgotten.
British Cycling told CNN in a statement that they "treat any such allegations with the utmost seriousness and we will be contacting Jess to offer to discuss her concerns in full."
In the aforementioned statement, British Cycling also claimed,
At no point in the performance review or the appeal process did Jess raise concerns about sexism, or any other form of discriminatory behaviour, in the Great Britain Cycling Team ... British Cycling has a strong record of working to create opportunities for more women and girls to take part in cycling at every level of the sport – from our Breeze programme of women-only led rides and Go-Ride, our development programme for young people, right through to the Great Britain Cycling Team where our riders are world leaders.
Still, Varnish claimed the recent alleged incident wasn't the first time she had encountered outright sexism in the cycling world. In the same Daily Mail interview, Varnish described British Cycling as a very "macho" culture and recalled a time when she was once told her "ass was too big."
"Don't get me wrong, the boys don't get it easy," Varnish said in the Daily Mail interview. "But I can't imagine him [Sutton] saying something to one of the men about their body shape or telling them to go off and have a baby."
After Varnish's claims made headlines, fellow female athletes have come to her side and applauded her for coming forward, including world race champion Lizzie Armitstead. While she was hesitant to discuss the situation with The Guardian, she said Varnish was right to speak out against what she perceived as sexism.
"Any athlete in per position has the right to say what she said," Armitstead said in an interview with The Guardian. "She's worked so hard to be in the position she's in and to have that taken away from her, if she feels that it's unjust, then she should speak out about it."
Additionally, Olympic teammate Victoria Pendleton told The Telegraph she "wholeheartedly believes" Varnish's claims of sexism and bullying in the sport. She claimed she too had experienced allegedly similar sexist behavior in her career.
"I never really felt I had the same respect as my male team-mates," Pendleton claimed in The Telegraph interview. "My opinion wasn't worth as much. I used to sit quietly in meetings and not say anything as I knew my opinions would be disregarded. And that's after I had become Olympic champion and multiple world champion." Romper has reached out to British Cycling for comment and is awaiting a response.
Varnish has multiple medals to display, including gold at the 2011 World Championships in Apeldoorn, and two bronze at the 2014 Commonwealth Games in Glasgow. If she wasn't already a role model for young women and athletes as a whole, her bravery in talking openly about the issue of modern sexism has definitely won over fans even more.