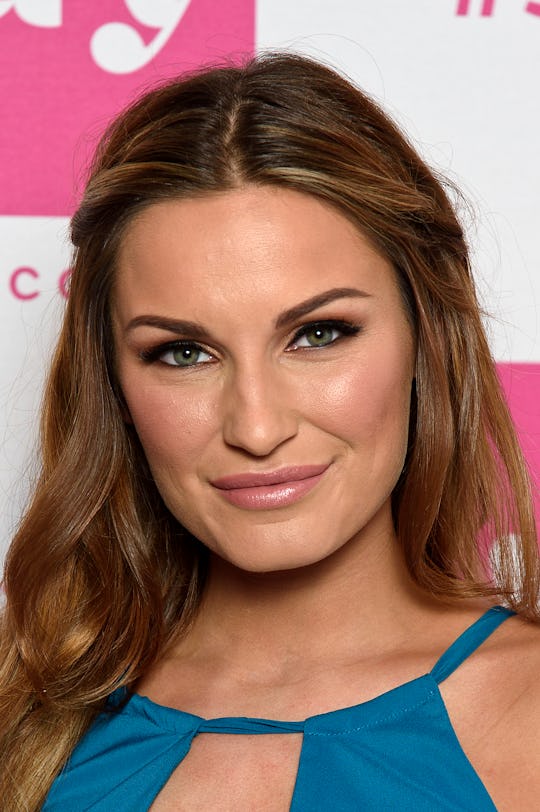 Ben A. Pruchnie/Getty Images Entertainment/Getty Images
British Reality TV Star Sam Faiers Breastfed Her Son On Live TV, & Why Shouldn't She?
Even though it is literally the thing that breasts are designed to do, any mom who has breastfed her child in public knows that not everyone is always supportive of that choice. But after getting stuck in traffic on her way to an interview with ITV's This Morning, and not having enough time to feed her son before going on air, British reality TV star Sam Faiers breastfed her son on live TV like it was totally no big deal — because, uh, it really was no big deal. According to People, Faiers began the interview while breastfeeding her 10-month-old son under a nursing cover. Co-host Holly Willoughby explained to viewers that The Only Way Is Essex star "only just got her opportunity to feed baby Paul," and added, "when it happens, it has to happen."
As Faiers offered an (unnecessary) apology, co-host Phillip Schofield reassured her by saying "we're perfectly comfortable," and clarified that it was Faiers' choice to cover herself while feeding, not something they'd asked her to do or expected. As Faiers settled in to chat about her new show, The Mummy Diaries, the interview continued on totally normally, and when baby Paul was finished eating, the two hosts happily held him and cooed at him while his mom readjusted. In other words, a woman breastfed her child and everyone acted like mature grownups. Win.
What's most exciting though is that This Morning viewers were totally psyched to see Faiers breastfeeding on TV, and lauded her for helping to normalize something that is still frustratingly viewed by some as taboo. Twitter users also thought it was pretty cool that Willoughby and Schofield were so supportive, and noted that being able to see a mom feeding her child on TV without shame is so important:
Faiers might have chosen to cover herself for the This Morning interview (although, I probably would have too, on live TV), but it's not the first time that she's advocated for public breastfeeding, and has been open about it as a normal, natural act. According to The Mirror, Faiers posted a breastfeeding selfie to Snapchat back in July after she was nursing Paul in bed, and posted another on Instagram. But unlike the mostly-positive praise Faiers received after her TV appearance, the social media shots brought out the trolls as well as supporters (maybe because — horror — her breast was partially exposed?).
Despite the haters, the fact that moms like Faiers are happy to breastfeed their children without worrying about what other people think is great — and the fact that they receive so much praise when they do it is even better. Any mother who has ever felt uncomfortable breastfeeding in public (or, worse, has been shamed for it) knows that it's not always the easiest thing to do. But as Faiers obviously knows, when your child is hungry, it's really nobody else's business. And if they have a problem with a baby being fed by it's mother, then that's totally their own problem to deal with.