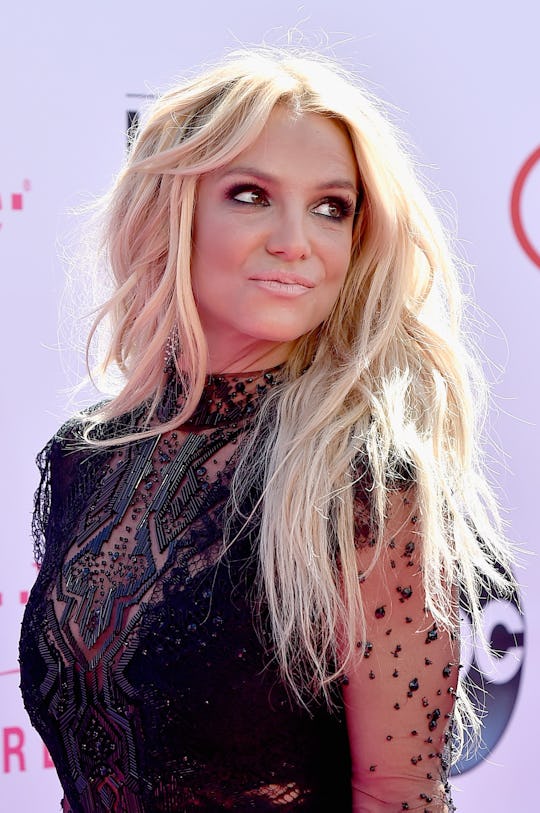 David Becker/Getty Images Entertainment/Getty Images
Britney Arrives At The Billboard Music Awards & Fans Are Freaking Out
Britney Spears definitely knows how to make an entrance. Spears arrived at the Billboard Music Awards Sunday night, where she's set to open the awards with a seven-minute medley of her top hits over the years (can I cross my fingers for "Oops!... I Did It Again"?). She arrived in a beautiful lacy bodysuit with a long train designed by Mark Zunino, her blond hair loose and wavy in signature Britney style. Her loyal fans were more than a little excited to see her, as evidenced by their tweets online.
Spears is being recognized at the award show with the Billboard Millennium Award, an honor that has gone to Whitney Houston and Beyoncé in the past. It's not Spears' first rodeo at the BBMAs, either: she's previously taken home six Billboard music awards, six of her albums have topped Billboard charts, and 24 of her songs have made it to the Billboard Hot 100.
As an OG pop princess, Spears has been collecting fans for 16 years. That's some longtime loyalty, and her fans watching the BBMAs from around the world certainly didn't hold back on social media. As Britney Spears arrived at the BBMAs, her fans brought the excitement:
We may have had some very talented musicians come out of the woodwork since Britney Spears dropped her debut album in the year 2000, but her true fans haven't lost their loyalty to the One More Time pop star. Lately, Spears has been keeping busy with her Piece of Me residency show at Planet Hollywood.
The Billboard Millennium Award "recognizes outstanding career achievements and influence in the music industry," which Spears has definitely accomplished. It's a well-deserved award, and if fans are freaking out about her red carpet appearance alone, I can't wait to see how they'll react to the her full performance.