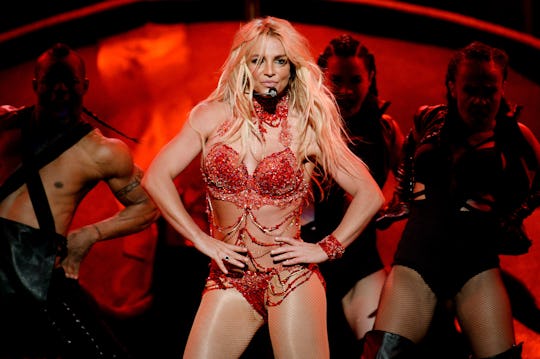 Kevin Winter/Getty
Britney Spears' Billboard Music Awards Performance Gives '90s Kids All The Feels
What an amazing trip down memory lane. Britney Spears' Billboars Music Awards performance was one incredible opener to the music awards show on Sunday that featured one Britney classic after another. The 34-year-old pop sensation opened her Billboard Music Awards performance with "Work Bitch" and then launched into a whirlwind seven-plus minute medley that included some of the biggest hits of her career. Britney's BBMA set list had plenty of fan favorites, including "Womanizer," "Slave For You," and "Toxic." Spears also performed the single ""Make Me (Oooh)" from her forthcoming ninth studio album.
Dressed in a gorgeously intricate bright red-colored one-piece designed by Mark Zunino, Spears absolutely killed it on stage during her performance. Her outfit for Sunday's performance required six seamstresses working around the clock to complete all of the hand-beading featured in her ensemble. The result was an inspired, glamorous take on one of Spears's signature concert performance looks.
Spears didn't have too far of a commute to get to the BBMAs; the awards show was held at the T-Mobile Arena in Las Vegas, Nevada — not too far from Spears's own residency show at the Planet Hollywood Resort & Casino. Spears will wrap up the four year run of her Vegas show, Britney: Piece of Me, next year.
But the performance is only the start of singer's amazing night. Spears will receive the Millennium Award, only the third ever to be awarded by Billboard. This unique honor and prestigious award was previously been awarded in 2011 to Beyoncé and in 2012 to the late Whitney Houston, accepted by her daughter Bobbi Kristina Brown. The Millennium Award is given to music artists who demonstrate both outstanding achievement and influence within the music industry, and there's no better recipient right now for this honor that someone like Spears, who boasts an impressive resumé of awards, honors, and chart-topping hits for her stellar pop music career.
After her now-infamous and very public breakdown in 2007 and career hiatus, Spears has worked hard to rise back to the top. Despite the relative flop that was her latest album, Britney Jean, Spears has come a long way from the Catholic school uniform-wearing, bubblegum-chewing teenager that exploded onto the pop music scene in 1999 with "...Baby One More Time." Sunday's Millennium Award will certainly be the cherry on the top of a millennium-defining career.
From the moment she took the stage, Twitter lit up with reactions to her BBMA medley:
Brit Brit hasn't lost an ounce of her amazingness, as Sunday night's BBMA performance proved to fans.