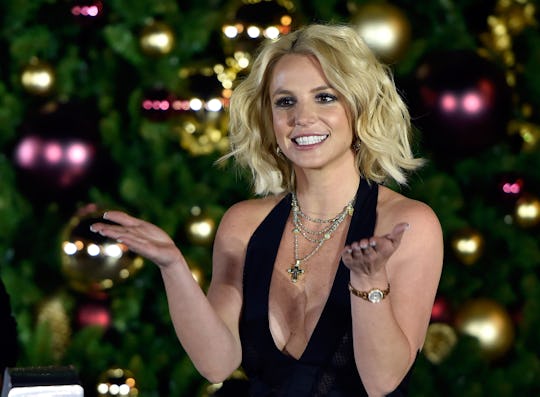 Britney Spears Dances to Adele's "Hello" In Video, Warms Your '90s Heart
Everyone on the Internet this weekend got to watch a video of Britney Spears dancing to Adele's "Hello," and I can only speak for myself, but it gave this child of the 90s all the feels. In a clip where the pop princess spins several times in slow motion to the "Hello" chorus — she doesn't put her right foot down even once! — Spears proves she's still got the moves that helped accelerate her to stardom back in the late '90s.
Since I was a kid who loved Spears — we're talking dancing around with my t-shirt tied up, owning three CDs, and replaying "...Baby One More Time" until my brother cried — this brings a nostalgic twinge. Admittedly, I'm much more of an Adele fan these days (though I still play Adele's songs while I'm in the shower and try to mimic her vocal range at top volume, just like I did with Britney's greatest hits). I started listening to Britney when my age was still in the single digits, and almost no one has the same musical tastes as an adult that they did when they were 9. But that's what makes this video so perfect. Fellow kids of the 90s, let's gather to watch our childhood and adult musical worlds meet in perfect union right here in this video:
Right??? How great is it to see the pop artist who dominated in the 90s and early 00s give a hat tip to today's biggest thing — namely Adele, who sold 3.38 million copies of her newest album, 25, in the US alone during its first week. Adele has beat out Taylor Swift for the biggest-selling album of 2015, and she even reached back into Spears' era to scoop up the highest single-week sales record from *NSYNC in March 2000.
This is an awesome case of women supporting women, especially in such a competitive field. Can we call for a collaboration yet?
Images: David Becker/Getty Images Entertainment; Britney Spears/Instagram, GIPHY.