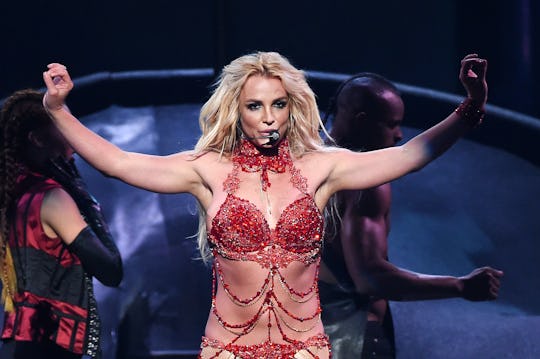 Kevin Winter/Getty Images Entertainment/Getty Images
Britney Spears Drops 'Make Me,' & It's A Smashing Success
Millennials, break out the headphones. Britney Spears released "Make Me" on Thursday night, and fans of the "Gimme More" singer have been losing their minds ever since. The song, which features rapper G-Eazy, is more bass-y and takes on a slower tempo than her pop hits have in the past — a sure sign that our favorite Mouseketeer is keeping up with the times and making a comeback after her last release of "Pretty Girls" in 2015.
"Make Me" has already seen an impressive surge to the top of the charts: Within hours, it topped iTunes' singles chart, pushing Justin Timberlake's "Can't Stop the Feeling!" down to second place. (This is one battle of the exes that I'm totally down for, by the way.) After toppling Timberlake's hit in the United States, "Make Me" then proceeded to top charts in over 29 more countries. And Friday's not even over yet.
The single is part of Spears' newest upcoming album, whose title she has yet to share with fans. However, Spears guaranteed that it would be interesting, telling E! News that the new album was "the best thing I've done in a long time. I'm proud of the work, and it's very different; it's not what you would think at all."
Luckily, it seems like most fans are digging her change in sound, judging by recent Twitter responses to "Make Me":
Spears' upcoming album will be her first since "Britney Jean," her eighth studio album, which was released in 2013. The album will also included the song "Private Show," which was recently featured in an ad for Spears' perfume of the same name. "It's very exciting," Spears told E! News of the album. "I've been working on this project for a year and a half now—almost two years—so it really means a lot to me. It's my baby."
While carefully crafting her new album, Spears has also been keeping busy in Las Vegas with her residency at Planet Hollywood, which was rated Best Show in Las Vegas in the Las Vegas Review Journal last year. She also snagged the Billboard Millennium Award at the 2016 Billboard Awards in May, where she performed a medley of her top hits and reminded the world that she is definitely still the queen of pop.
There's been no word on the release date for her new album yet, but I'm guessing I'm not the only fan waiting to hear the rest of it. Don't worry — judging by her recent successes and the sound of her new single, it looks like Spears won't be going anywhere anytime soon.