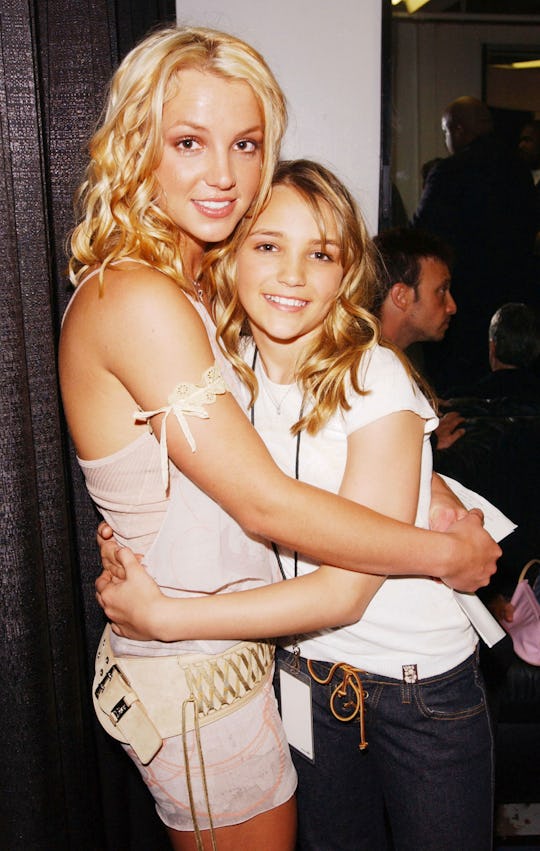 Frank Micelotta/Getty Images Entertainment/Getty Images
Britney Spears Congratulates Jamie Lynn On Her Pregnancy With The *Sweetest* Message
Not only did one former Zoey 101 star announce that she's expecting her second child on Christmas Eve, but her big sister chimed in hours later to congratulate Jamie Lynn Spears on the exciting news. In fact, Britney Spears' sweet response to Jamie Lynn's pregnancy announcement will warm your heart in the best way possible.
In case you missed it, Christmas Eve 2017 was marked by a pretty big announcement from 26-year-old Jamie Lynn, as she took to Instagram to announce that she was expecting her first child with husband Jamie Watson, and second for her.
"Looks like we are starting off 2018 with another big milestone...sooo happy to announce that Maddie is FINALLY going to be a big sister," Jamie Lynn captioned an adorable photo featuring her bump alongside her 9-year-old daughter and husband.
And now Jamie Lynn's older sister — who just so happens to be the one and only Britney Spears — is sending her well wishes to the excited family. "Maddie is going to be the best big sister!!!" the iconic pop star wrote on Twitter Sunday afternoon. She continued, "So happy for you @jamielynnspears!!!! Love you all sooo much!!!" And seriously, if Jamie Lynn's own announcement isn't enough to make you cry happy tears, then her sister's congratulatory tweet should do the trick.
Honestly, with all the political hell fire and natural disasters and everything else going on, it's nice to see two sisters supporting each other and being happy for one another. Truly, Jamie Lynn has had a stressful year. On Super Bowl Sunday, 9-year-old Maddie was in a terrible ATV accident and spent five days in the hospital. According to People, "The vehicle she was riding flipped over into a pond on Watson and Spears' Kentwood, Louisiana, property, and Maddie was subsequently submerged under water for several minutes."
So now, with all this happy news, it's understandable for the sisters to be truly and wonderfully happy. And that's something Jamie Lynn spoke about in her Instagram announcement. "2017 was filled with some of the biggest challenges of my life, as well as some of the biggest blessings, so I made a choice to lay low this year to focus on truly becoming my best self as a person and as an artist," Jamie Lynn wrote on Sunday.
She went on to say that she had spent a lot of time working on herself, and her music, and that what she's created has been her most honest and vulnerable work thus far. Additionally, Jamie Lynn added that she wasn't going away any time soon, and that 2018 is on track to be a great year for her, both personally, and in her work life as well.
Jamie Lynn has expressed her genuine gratitude for her daughter's life many times this year. On Maddie's birthday, she took to Instagram to give a special shout out to the two first responders who helped save her daughter's life. "My baby is 9 years old today, and more then ever we realize how precious every day is. So, we have to thank these 2 HEROES," she wrote, along with a prayer hands emoji. "John and Victoria are the first responders, who literally saved Maddie's life, and they were able to celebrate her another year of her life with us this past weekend!"
Clearly, Jamie Lynn is seriously happy. This year has been a pretty hectic one for so many across the United States, but it's nice to see the wife, mother, and singer so happy. And it's even better to see her older sister showing her so much love, something everyone could use more of this time of year.
Check out Romper's new video series, Romper's Doula Diaries:
Watch full episodes of Romper's Doula Diaries on Facebook Watch.