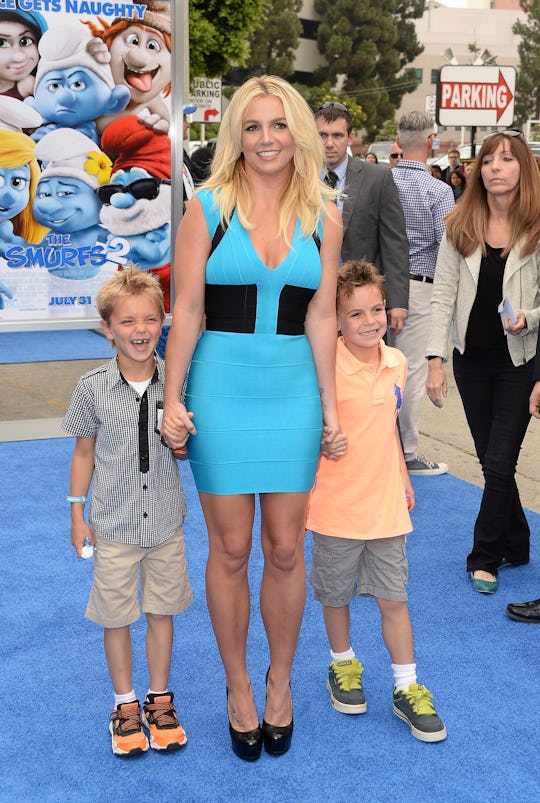 Jason Merritt/Getty Images Entertainment/Getty Images
Britney Spears Says Her Sons Are What Helped Her Overcome Her Severe Anxiety
It's been a good year for the '9os Queen of Pop: an amazing comeback album, performing at the VMAs, and overcoming some emotional struggles that have been plaguing her for years. And, in reflecting on her killer year, Britney Spears said her sons are what helped her overcome her severe anxiety, in a new interview with Marie Clare UK (she's their October covergirl).
Back in 2007, Spears' mental health made headlines when she had what the tabloids called "a breakdown" — but her anxieties began a lot earlier than that, something that isn't exactly uncommon in former child stars. She was, as she sings in "Piece of Me", "Miss American dream when [she] was 17" — and even before her first album came out, she'd been on the Mickey Mouse Club show as a little girl (along with Justin Timberlake and Christina Aguilera).
Her first son with Kevin Federline was born in 2004 and she stopped touring and putting out new music in order to focus on family. Her first bout of bad press came just a year later, when paparazzi snapped her driving with her toddler son on her lap instead of in a car seat, according to TODAY. At the time, Spears issued a statement defending her actions, saying that she was afraid of the paparazzi, who were swarming her vehicle. "I instinctively took measures to get my baby and me out of harm's way, but the paparazzi continued to stalk us," she said in a statement, "I love my child and would do anything to protect him."
A couple of months later, she and Federline filed for divorce, but it wasn't finalized for almost a year.
Shortly thereafter, it was reported that she'd been partying at home when police showed up and found her and then-boyfriend, paparazzo Adnan Ghali, allegedly intoxicated in the presence of her sons, according to reports from the LAPD as reported by CBS News. But Spears wasn't charged or convicted of any crime.
The next day, her custody rights were suspended and Jayden (born almost a year to the day as his older brother) and Sean went to live with father, Kevin, according to CBS News. She was also put under a mandatory psychiatric hold and her father was given "temporary conservatorship" — meaning doctors didn't think Spears was well enough to make decisions for herself.
After she was released, she continued to make headlines and fans worried about her stability: she was involved in a hit-and-run (though, she paid for the damages and the charges were dropped by Superior Court Commission Susan Speer, according to CBS News) was reportedly kicked out of bars and clubs she frequented in LA, went through several managers, and infamously shaved her head, which prompted even more stories to circulate. Had she done it to evade drug testing? Was she making a statement about celebrity culture?
Purportedly when paparazzi at the salon were taking those now-famous pictures of her buzzing off her hair, they asked her why she was doing it. Her response? "Because of you," according to New York Magazine.
In her latest Marie Claire UK interview, 10 years after her struggle started, Spears said that being a mom to Sean, 10, and Jayden, 9 — not making an epic musical comeback — was what really turned her life around. Becoming a mom, she told Marie Claire, "has made me so much more accepting of myself. I'm their mom, whatever. That has been a really big thing for me over these last few years."
She also opened up about how difficult it was to have moved to LA at such a young age, and how being under constant scrutiny by managers, paparazzi and the public wore on her, "If a hair was out of place, I'd be so anxious," she told Marie Claire.
But she realized there was at least one role in her life where no one cared what she looked like — being mom.
"The best relationship I've ever had is with my boys," she told Marie Claire,"My boys don't care if everything isn't perfect, they don't judge me. If anything, when I'm all dressed up they aren't happy because it usually means I'm going to work."
She also revealed that, when it came time to record her latest album, her boys were really involved — and let her know if they thought a track she'd just laid down wasn't "cool." Oldest son, Sean, actually named her album, "He was like, 'Mom, I think you should call your album Glory.' It's cool though because he's young and he knows. As I teach them, they teach me as well."