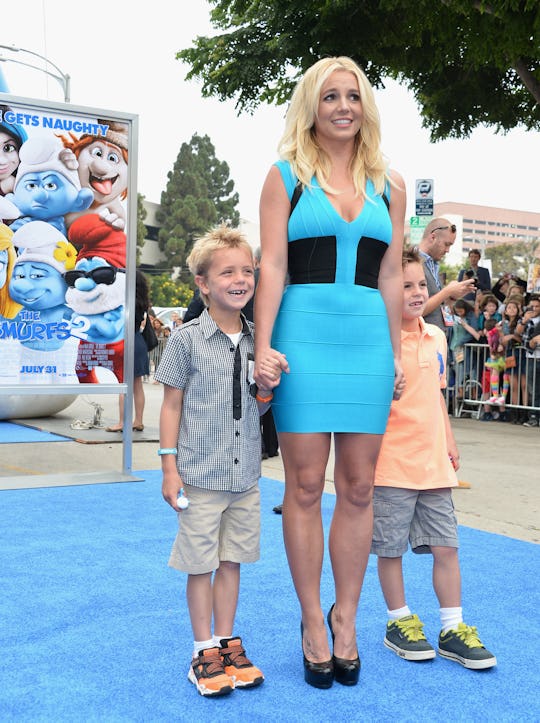 Alberto E. Rodriguez/Getty Images Entertainment/Getty Images
Britney Spears Says She Wants More Kids & Her Take On Having Them Is Awesome
What isn't Britney Spears doing these days? Between performing in Las Vegas full time and promoting her newest album, Glory, Britney Spears has been very busy over the past few months. But there is also another role that keeps Spears busy on its own — being a mom. During a hilarious segment of Carpool Karaoke, Britney Spears says she wants more kids and makes a pretty cool statement while doing so.
Spears looked fabulous during the segment, singing along to her classic hits like "Oops I Did It Again" and "Toxic" as well as her newest single, "Make Me" with James Corden, host of The Late Late Show with James Corden. But in between singing songs Spears and Corden began to talk about every mother's favorite subject — their children. Corden talked about his young children, ages five and two — before Britney talked about her own. "I want more kids...like, three more," Spears told Corden. "I have to find the right guy first," Spears said.
But when Corden implored about what kind of guy Spears goes for she made a very bold proclamation. "I think I might not ever go to men again," Spears said. "I don't think I will do the whole man thing anymore or get married. I'm just done with men."
That could possibly be because Spears has two very important boys in her life already — 10-year-old son Sean Preston and 9-year-old son Jayden James. Seriously, could the boys get any cuter? Spears' desire for more kids (and not wanting to get married) could mean that she simply loves being a mom — which is incredibly clear on Instagram, where photos of her two boys decorate the page.
Britney Spears was married at one point — to ex-husband, former back up dancer, and father of her children, Kevin Federline. Since their split in 2006 after two years of marriage, Spears has dated on and off, but her statement to Corden about being done with men sounds pretty convincing.
"My kids come first in my life, bottom line," Spears said in an interview with People in 2015.
Ex-boyfriend, David Lucado seemed to agree about Britney's passion for her children, telling The New York Times, "If anyone knew the real Britney, they would know that she would rather be remembered for being the great mother she is rather than the great artist she is."
You could see Spears' eyes light up when she talked about her children and potentially having more. And who knows? Maybe one day Spears will have more children without any help from a man.