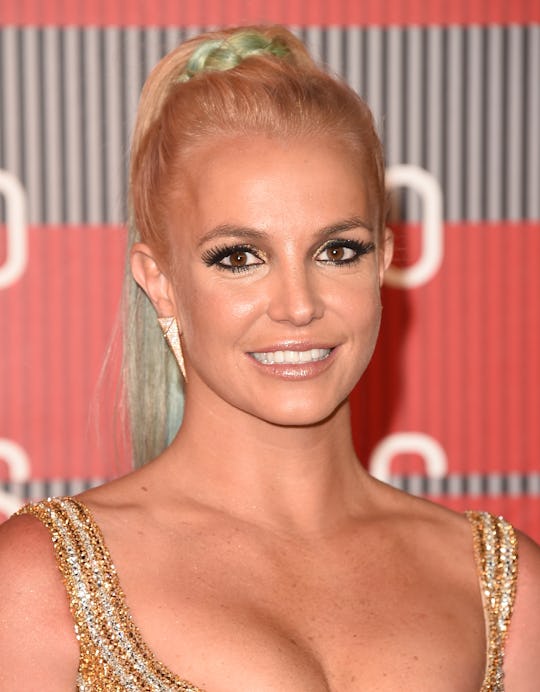 Jason Merritt/Getty Images Entertainment/Getty Images
Britney Spears Shares A Bikini Photo, Yet Again Proving That Moms Can Always Be Sexy
The abs that launched the low-rider jeans juggernaut on American women are back and better than ever. Britney Spears posted a bikini picture on Instagram that should be an inspiration to moms everywhere. Not all moms have Spears' killer genes or daily dance regimen, but the bikini shot of the 34-year-old mother of two proves once and for all that "mom" is the new "sexy" — no apologies necessary.
First of all, it's so fun to see Spears happy, healthy, and enjoying raising her two boys, 10-year-old Sean and 9-year-old Jayden James. But, what's awesome for mothers everywhere, is a famous, public woman like Spears showing that she can cheer on her babies who are doing back flips while also posing in her bikini and looking pretty damn amazing. Because, too often, society tells mothers that once they have children, their bodies are for doing practical jobs, rather than for themselves. A woman shouldn't feel like she has for forfeit her sexuality the moment she becomes a mother. Owning and celebrating your own sexuality and physicality doesn't diminish your ability to parent in even the slightest way, and Spears' photo makes that clear.
Check out awesome, 34-year-old mama "just chilling" by the pool.
Maybe wearing a bikini and posting pics isn't your thing. (It's not mine either, no biggie.) The point is that mothers need — they deserve — reminders that they can honor their bodies and acknowledge that schlepping strollers and packing lunch boxes aren't the only things their bodies are good for. Get a massage. Take care of yourself. Lock the bathroom door tonight and shave your legs. Whatever it is that makes you feel good inside your skin is important for you to do, and, ultimately, it's also important for all of the minions you might be taking care of.
One look at this picture is all it takes to know Spears is totally feeling herself lately. With good reason. And moms everywhere should, too.
I really love this grownup Spears who takes care of business and her children while looking amazing in a bikini. She's come a long way from that teen queen we fell in love with all those years ago. Spears' has evolved into a complicated woman who you can't help but respect and root for. Snaps to her for that. And — one thing that hasn't changed over all these years — she's still rockin' those "I'm A Slave 4 U" abs.