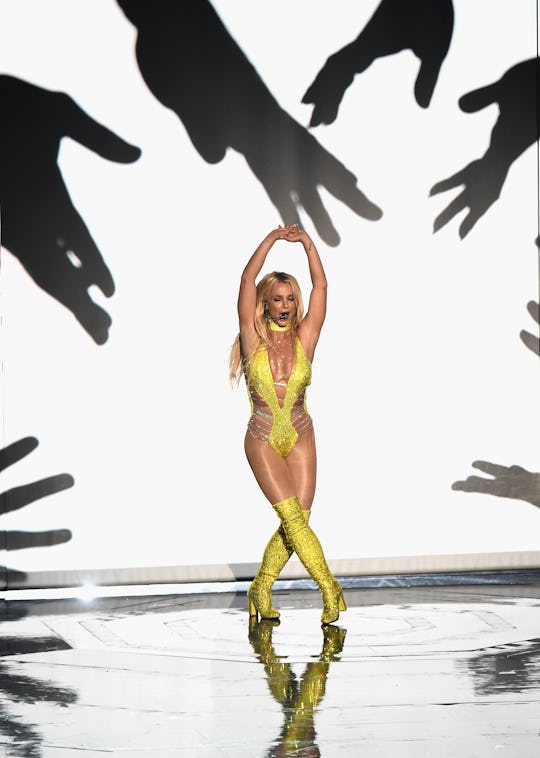 Michael Loccisano/Getty Images Entertainment/Getty Images
Britney Spears' VMAs Performance Was Pretty Much Just Average
Seeing as Britney Spears is to MTV as the Kardashian family is to E!, fans were ready for the 34-year-old pop queen to hit the VMAs stage on Sunday night. Britney Spears' VMAs performance gave fans another opportunity to see Spears do what she does best: Shake, wiggle, and show midriff. Her last VMAs "comeback" was nine years ago, and it didn't go quite as she'd hoped it would.
Written off as unenthusiastic at the time, Spears' lip-synced rendition of "Gimme More" caused nationwide disappointment. This past understandably upped Spears' nerves for her long-awaited return to the VMAs stage. In an interview, Spears said "Every time I've performed [at the VMAs], it's always been one of those really big, nerve-wracking experiences... I still get very nervous."
Spears' relationship with the VMAs has been a dynamic one. In a memorable collab with N*SYNC, 1999 Spears gave us "Baby One More Time." The very next year, her performance of "Oops… I Did It Again" was accented with a sparkly suit and hat that turned into a striptease. Then, in 2001, Spears brought out a python-as-accessory, slinking around to "I'm a Slave 4 U," shocking pretty much everyone In 2002 she didn't perform, but did present Michael Jackson with a birthday cake (which in hindsight, is just as exciting). The next year, Spears and Madonna kissed on stage, scandalizing teens everywhere. The VMAs years that followed were a bit of a cooling off period for Spears until the aforementioned "Gimme More" incident of 2007—the incident she attempted to redeem herself for this time.
Spears managed to subvert her own hesitation this year, gracing the VMAs stage in silhouette in front of a screen of shadowed hand puppets. She wore a yellow, sparkly leotard and yellow heeled boots. Gearing up for the release of her upcoming album Glory, Spears sang "Make Me," with G-Eazy. She also sang the hook for G-Eazy's hit "Me, Myself & I." Her dancing was enthusiastic and the crowd responded with appropriate screams. Oh, and she was definitely lip-synced. No doubt about it.
Spears' performance was solid. It wasn't the embarrassing, uninspired moment that left a bad taste in the mouths of critics and fans alike in 2007. As a follow-up to Beyoncé (and honestly, who would choose to follow Beyoncé), Spears was definitely not one of the most memorable performers of the night. To be fair, Rihanna flooded the stage with back-up dancers, while Spears only had a few. Spears' show was short and sweet and, well, average.