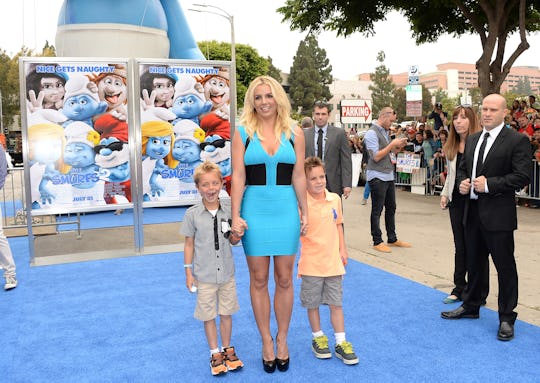 Jason Merritt/Getty Images Entertainment/Getty Images
Britney Spears Wrote A Sweet Letter To Her Sons Just In Time For Mother's Day
In honor of Mother's Day, TIME asked celebrity moms to write open letters to their kids, and Britney Spears' letter to her sons Jayden James and Sean Preston, whom she refers to as her "masterpieces," is adorable. "Such a gift God has given me, exploring in your beautiful worlds every day," she wrote, according to TIME. "I pray as a mother I teach you strength and passion to carry through the struggles in the world." Spears encouraged her sons to keep dreaming, reminding them to "Always believe in yourself and know anything is possible," she wrote, adding that she hopes they're "never ashamed of how bright your light truly is."
Preston, age 10, and Jayden, age 9, are products of Spears' two year marriage to her former backup dancer, Kevin Federline. Preston was born just days before the couple's one year anniversary. In 2004, Spears expressed a desire to have children sooner rather than later:
A lot of people think you should wait till you're older to have kids. I've had a career since I was 16, have traveled around the world and back, and even kissed Madonna! The only thing I haven't done is experience the closest thing to God, and that's having a baby. I can't wait!
Jayden was born less than a year after his brother, and at the time, Spears appeared to be living the dream: "I'm happy. I'm very blessed. I have a beautiful home, a wonderful family, supportive, loving people around me. I have a great life," she told People. A few weeks later, her marriage was over.
The following years were a troubling time for Spears, as she struggled with mental health issues, which were documented in all their gory detail by the paparazzi. Since 2008, the singer has been controlled by a court-appointed conservatorship, the details of which were recently explored by The New York Times. Although interviews with the star are few and far between (and never very deep), she told People last year that she's in a "real good place" and "the happiest I've ever been." With regular performances scheduled and a new album on the way, Spears certainly appears to be happy and healthy, although the conservatorship remains in place, and Spears is legally unable to make any personal or financial decisions without approval from her father, Jamie Spears, and a lawyer, Andrew M. Wallet.
It seems unnecessarily harsh to put such strict limitations on the rights of a grown woman, but there are no plans at this time to lift them. The Times reported that the elder Spears, Wallet, and other various lawyers have thus far netted nearly $9 million from the conservatorship, leaving little incentive for any of them to put an end to it. Adam Streisand, a former attorney for Spears, told the Times that fear of losing her children kept the singer from opposing the conservatorship when it was first put in place. In the 2008 documentary Britney: For the Record, Spears likened her situation to a prison: "Even when you go to jail, y'know, there's the time when you're gonna get out. But in this situation, it's never-ending." These days, she stays silent on the subject, and declined to speak to the Times for its article.
But through it all, Spears' sons have been her salvation. "My kids come first in my life, bottom line," the singer told People last year. Though she performs regularly at Planet Hollywood for her Las Vegas residency, she's still a full-time mom, and much of her life revolves around homework, soccer practice, and showing off her sons' skateboarding skills on Instagram. Fame, a rushed marriage, and the legal system may have done a number on Spears, but her kids are quite a beautiful part of the otherwise difficult story.