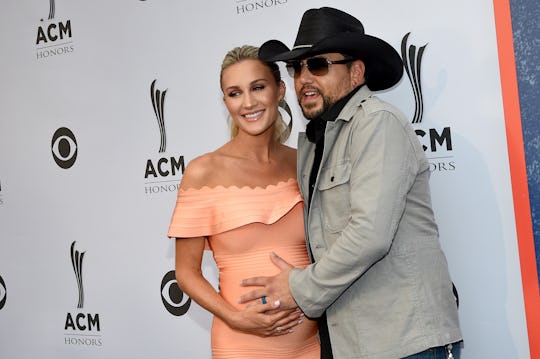 Rick Diamond/Getty Images Entertainment/Getty Images
Brittany Aldean's Message After The Las Vegas Shooting Will Touch Every Parent
On Sunday evening, country singer Jason Aldean was performing at the Route 91 Harvest Festival in Las Vegas, Nevada when a gunman opened fire and wrecked havoc on the country music festival, killing a reported 59 attendees and injuring more than 500 others. What happened that evening is something that many people will never forget, including Aldean and his wife, Brittany, who is currently pregnant with their first child. Maybe it is because of this that makes Brittany Aldean's response to the Las Vegas shooting so incredibly touching.
As previously stated, Aldean had been performing when the shooting began, which forced him to stop mid-song and run off stage to safety. Brittany was also attending the music festival with friends, supporting her husband. It's hard to imagine what was going though her mind at that point.
But Brittany's Instagram post, shared to her account on Wednesday, gives fans a glimpse of her mindset on Sunday night and boy, does it seem like a lot. With their first child together on the way, the situation became more serious than ever. Brittany wrote in her post — explaining where she was the moment she knew she was in danger — after thanking the first responders who were able to save lives:
When the gunfire started, I was not with Jason but with some of my friends in a tent closer to Mandalay. As you can imagine, my first instinct was to run to him and his was the same.
Brittany, who announced her pregnancy back in May, was understandably scared — not only for herself, her husband, and his fans — but for their unborn son. Brittany explained, in the post:
As we laid behind equipment onstage with some of our road family, bullets flying past...all I could think was "I never even got to hold my baby." We all made sure the others knew we loved them and then ran for cover where we stayed for the next couple hours. (Not knowing if there were multiple shooters, where the bullets were coming from... NOTHING). We were the lucky ones.
Brittany's statement comes on the heels of her husband's statement, where he also mentioned their unborn child (Aldean also has two daughters from a previous marriage) and just how scared he is to bring his children up in this world. Aldean wrote:
I truely [sic] don't understand why one person would want to take the life of another. Something has changed in this world that is scary to see. This world is becoming the kind of place I am afraid to raise my children in.
When Brittany first announced her pregnancy on Instagram, she described how much of a struggle getting pregnant had been up to that point. "This journey for us has been full of many happy times and many tears," Brittany wrote, according to Us Weekly. "The biggest roller coaster we have ever been on without a doubt!! All of the moments of heartbreak were followed by the biggest blessing in the entire world!!"
In late July, Brittany also updated fans all about her little one on the way on Instagram. In the post, Brittany revealed that the parents-to-be already have a name picked out (but that is a surprise), that their baby already weighs in the 95th percentile in size, and that the baby's due date is around the holidays. With that being less than a few months away, people can only imagine the terror that Brittany was going through on Sunday night.
Indeed, what happened on Sunday night was incredibly terrifying, for the crowd, those backstage, and those at home. Witnessing a tragedy on that level just seems unfathomable. But the Aldeans do have something so beautiful to look forward to — the birth of their son — in the upcoming months.
Watch Romper's new video series, Romper's Doula Diaries:
Check out the entire Romper's Doula Diaries series and other videos on Facebook and the Bustle app across Apple TV, Roku, and Amazon Fire TV.