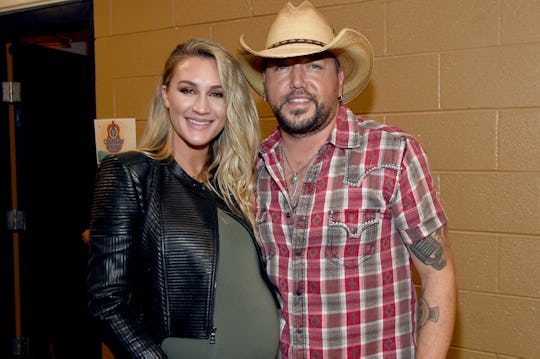 Rick Diamond/Country Rising/Getty Images Entertainment/Getty Images
How Brittany Aldean Called Out "Parent Shamers" On Social Media Deserves A Slow Clap
It never ceases to amaze me how random strangers can judge a person based on a single photo, or one moment in time. Yet, for some reason, people think new parents are fair game for harsh scrutiny. (You know, as if new moms and dads don't already second-guess themselves at every step along the way.) For new parents who happen to be in the public eye, the unabashed judging is often tenfold — and Jason Aldean and his wife are no exception. And honestly, Brittany Aldean's response to "parent shamers" criticizing her for taking a vacation deserves a slow clap.
As E! News reported, country music star Jason Aldean and his wife, Brittany Aldean, welcomed their first child back in December. "So blessed today to see my little man come into the world," Jason wrote on Instagram on the day of his son's birth. "In a year that has been a roller coaster ride, this is what its all about. I cant wait to see what life has in store for this kid. Memphis Aldean... 9lb 5 oz. #mamawasarockstar."
Fast forward three months, and the new parents decided to take some time for themselves away from their baby boy. Cue: Mom-shaming commences.
It all started on Friday, when the 30-year-old mom posted a photo on Instagram of herself sitting on an airplane seat while looking at a portrait of baby Memphis. "Haven't even left Nashville and I miss him so much it hurts," Aldean captioned the snapshot.
As it turns out, she and her husband were embarking on a tropical vacation getaway at the time — without their 3-month-old son, as People reported. Most of the comments on her photo were positive and uplifting, with many Instagram users even praising the new mom for taking time to herself. However, plenty of people showed up to apparently make her feel worse about the decision. "Poor baby," one Instagram user commented pointedly.
Others wondered why the new parents didn't just take baby Memphis along with them.
"Can't he travel with you?" one commenter wondered.
"Why not take him with you?" another asked.
Still other Instagram users pointed out that they would never be able to leave such a young child of their own. "Omg leaving him already," one person wrote. "I couldn't do it!"
Another Instagram user shared, "I couldn't do it. My little one is 19 months and I've never left her."
Although Aldean never actually replied to the Instagram users who were low-key criticizing her for leaving her 3-month-old baby, the new mom definitely noticed.
On Saturday, Aldean posted a photo of herself and her husband with gorgeous, blue water and a beach as the backdrop, as Entertainment Tonight reported. "Much needed vacay," she captioned the dreamy shot. She continued:
Just a word of wisdom for all the parent shamers... vacations are ok for new parents to take. Sometimes after being pregnant for almost a year, cooped up in a house for weeks at a time, you need a little sunshine and adult time. IT IS NOT OK to leave your ignorant comments. If you don't agree with something, PLEASE... do me a favor and unfollow me. You will NOT be missed. And for all the sweet, positive, happy people... we love you and thank you!!
Not only is this mama's response to shamers spot-on, but it's also super classy. She didn't engage anyone in particular, nor did she directly respond to any specific criticism. Instead, Aldean simply put out a blanket statement about parents taking time for themselves — and left it at that. Honestly, I'm not sure I could have handled the situation with as much grace.
The thing is, every parent is different. Clearly the Aldeans trust the person they left their baby boy with — whether it was a hired professional, or family. It can be hard enough for new moms and dads to give permission to themselves to take some "me time" away from their children. Strangers chiming in and highlighting these insecurities does nothing to help the situation. One thing is for sure: Brittany Aldean's Instagram followers will probably think twice before calling into question her future parenting decisions.
Check out Romper's new video series, Bearing The Motherload, where disagreeing parents from different sides of an issue sit down with a mediator and talk about how to support (and not judge) each other's parenting perspectives. New episodes air Mondays on Facebook.