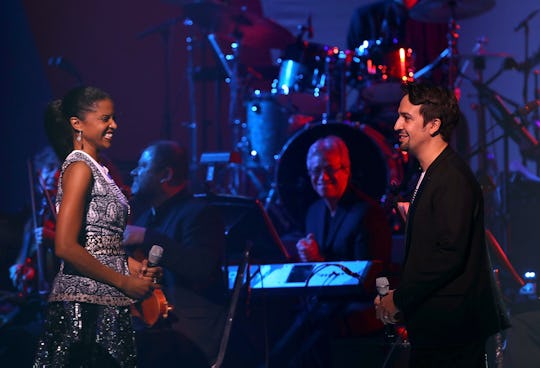 Justin Sullivan/Getty Images News/Getty Images
Broadway For Hillary 'Hamilton' Performance Doesn't Hold Back In Going After Trump
Praise the great gods of Broadway, Lin-Manuel Miranda did a "Hamilton" rap about Hillary Clinton, and it was good. On Monday night, a Broadway For Hillary fundraiser featured a whole lot of celebrity performances aimed at mobilizing musical theater fans to get out and vote for Clinton. And while everyone from Hugh Jackman to Sarah Jessica Parker showed up to sing, a re-written "Ten Duel Commandments" from "Hamilton" took the cake as the most buzzed-about performance.
Miranda, who created, wrote, and starred in the conversation-dominating Broadway mega-hit, performed the updated song with his former "Hamilton" co-star, Renée Elise Goldsberry. (Goldsberry won a Tony for her role as Angelica Schuyler, so she's no shabby duet partner.) The musical about a history-making Founding Father proved to be an excellent fit for Clinton, a woman poised to make some political history of her own.
In the rap, Miranda and Goldsberry laid out "the ten things you need to do" in the lead-up to Election Day, and while they lavished plenty of praise on Clinton, they didn't shy away from slipping in some digs at her opponent, Donald Trump. Particular highlights included number two, "Call some undecideds with your crew, your cousins in Ohio, maybe try to flip them blue," and six, "We know that our Hillary's no quitter, we watch as her opponent sits and fiddles with his Twitter." And when Miranda rapped, "I have only one overwhelming feeling: anybody here want to shatter a glass ceiling?" the crowd went wild.
The audience didn't stop at just cheering. The event reportedly raised $2 million for the Clinton campaign. (Broadway fans love strong, complicated, under-appreciated women. Just watch Gypsy, and think about Clinton singing that famous final number.)
Other excellent moments in the performance include a reference to Michelle Obama's now-iconic "When they go low, we go high" line (Michelle! Do not leave us!), and the lyric, "Watch Hillary examine the terrain, watch her campaign with the man Tim Kaine. Tim Kaine in the membrane. Tim Kaine in the brain!" (After all, once you've seen those pictures of a young Tim Kaine, it is indeed hard to get him out of your brain.)
The fundraiser, which was officially called "Stronger Together," was live-streamed, with President Bill Clinton making a surprise live appearance, and Clinton herself putting in a video appearance, joking that she auditioned for the show, but didn't make it.
Luckily, the video of Miranda and Goldsberry is online, so you can watch it as many times as you need to in order to get psyched for Nov. 8 (and to content yourself if you still haven't managed to snag "Hamilton" tickets).