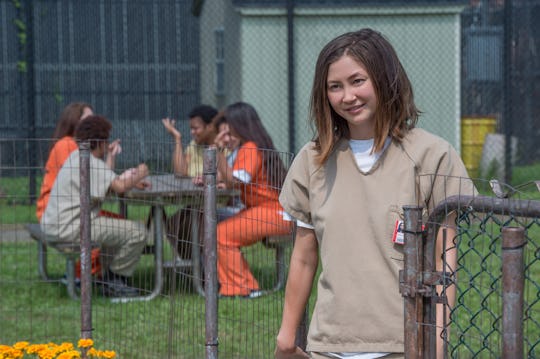 JoJo Whilden/Netflix
Brook Soso's 'Say Anything' Moment On 'Orange Is The New Black' Won Over Poussey
(Warning: This post contains spoilers from Season 4 Episode 3.) Orange Is the New Black is back, and while the show is about the characters and their crimes, its more about the lives they build and the relationships they form within Litchfield. One of the most significant relationships in Season 4 is that of Brook Soso and Poussey Washington. The two have had their fair share of lows, but the highs in the first half of Season 4 are great enough that they're a solid ship, sailing in the night. Proof? Just take a look at Soso's Say Anything moment on Orange Is the New Black that totally won over Poussey in Episode 3.
Poussey and Soso are the couple to watch during the season. After saving Soso's life, Poussey and the chatterbox at Litchfield formed a close bond. Close enough that Soso took it upon herself to get a little meet and greet arranged with Poussey's favorite lifestyle superstar, Judy King. But, in order for that moment to happen, Soso had to lie about Poussey's past to get Judy King to pay attention to her plea.
The plea worked, except Judy was under the impression that Poussey was raised by a drug addict — which is not the case. Poussey was obviously hurt by the lie about her background, especially because it seemed like Soso knew very little about Poussey's background.
This hiccup, for a second, seemed like it was going to cost Soso her relationship with Poussey. But, in an act of making it up to Poussey — and to show her that she thinks of her as more than a daughter of a addict — Soso pulled off a semi-Say Anything stunt in the hallway where she held a boombox over her head. Of course, there are limited resources in Litchfield, so it was kind of the poor man's — or jail inmate's — version of the Say Anything scene.
Even though it was a small gesture, it was charming enough to win over Poussey. She forgave Soso for what she had said to Judy King, and the two went on to live happily, ever after — at least for the remainder of the episode. No spoilers on what happens next, in case you haven't seen beyond this episode.