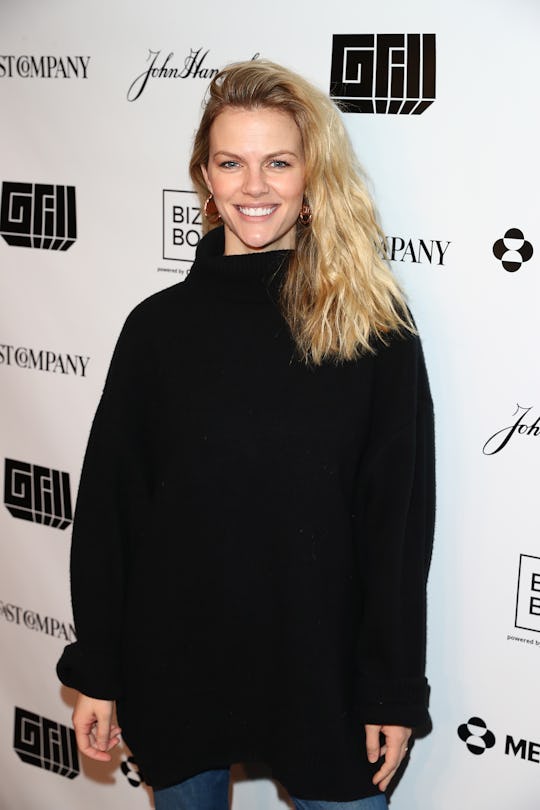 Joe Scarnici/Getty Images Entertainment/Getty Images
Brooklyn Decker Just Got So Real About Having A Second Baby
Any mom whose ever had a baby knows that no matter how prepared you are, how many books you've read, and how many tech gadgets you have hooked up in the nursery, a child is always more overwhelming than you'd predict... and that's only for the first one. The ever-relatable Brooklyn Decker says "every cliché is true" when it comes to having a second baby, by which she means it is so much more exhausting than she anticipated, but even more worth it than she could have imagined.
People reported on Thursday that Decker and her husband Andy Roddick recently welcomed their new daughter, Stevie, at the beginning of this year. She joined their son, Hank, who is almost 3.
"It's utterly exhausting. But wonderful. It's so much fun, and every cliché is true. Every cliché in the book that they say," Decker told the magazine at the launch of the Finery app, the newest development at her tech company, which allows users to create virtual wardrobes based on purchases they've made. "It's the most beautiful thing in the world. It's the most exhausting thing in the world. It's the most fulfilling thing in the world. All of that is true. It's wonderful."
Decker also mentioned that her son Hank went through a bit of an adjustment period when his sister was born, which is not only very relatable, but completely normal. Decker joked: "He was kind of a d*ck to mommy," but explained that he "totally gets" the situation now, and understands that it's okay to sometimes share his mom with his new sister.
"It's so sweet. He's really sweet, very loving," Decker said, before adding that during that adjustment period, her son sometimes expressed his frustration by preferring to hang out with her husband (which is also very normal, and highly relatable):
He was like, 'No, Mommy, I want Daddy,'... He definitely had a little bit of an aversion to me, which makes sense because I was giving him significantly less time than normal, but he's such a good big brother.
Decker has been transparent about many aspects of raising kids as a working mom, often updating her Instagram followers with pictures of how she balances running her company and running her family. "On a video conference with a baby attached to my boob. That's how it's done at @yourfinery," she posted back in February.
A few months later, Decker uploaded another photo of herself in the back room during a conference for her company, explaining that she had to pump breast milk. "Yes we are hosting a ton of editors as we launch our new product," she wrote. "Yes I am in a back room pumping as they talk outside. Yes this sucks. But YES this is why it's awesome to be a part of a female founded, female-run startup."
Previously, Decker told Refinery 29 that while it's possible for women to have whatever they want out of life, they shouldn't feel pressured to. "There is pressure to do it all, but the narrative that we can start changing, and that I do see changing, is that you can have it all. You don't have to do it all at once," she said.
She also joked that though she feels amazing, she might not always look put together (and that's okay). "As a fairly new mom, I would absolutely love to leave the house every day in sweats, because I'm covered in drool, or spit-up, or baby food," she said. "I actually have left my house with boogers in my hair, and whose boogers are they? Are they my boogers? Are they my child's?"
Never change, Brooklyn. Never change.