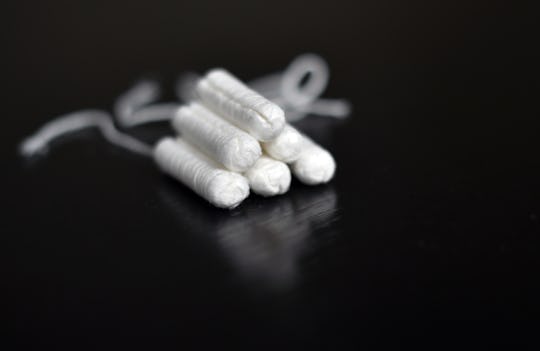 LOIC VENANCE/AFP/Getty Images
Brown University's Free-Tampon Policy Is A Major Step In The Right Direction
When it comes to periods, there's nothing much worse than the realization that, in many states, women have to pay a "luxury tax" on tampons. Rivaling this is the realization that you're out of said tampons when you get to the bathroom. But now, Brown University is addressing both of these problems with a new initiative. Members of the student government at Brown put tampons in women's and men's bathrooms to be used for free by students, according to the Washington Post.
Viet Nguyen, president of Brown's Undergraduate Council of Students, headed the effort, the Washington Post reports, which involved placing tampons and pads in restrooms the night before fall classes began. According to a release from the council, the products will be restocked weekly. In the release, Nguyen addressed the importance of taking action to promote gender equity.
"We hope that this step, making Brown one of the first institutions in higher education to implement such a program at this scale, will motivate other universities and student governments to take similar actions... Tampons and pads are not luxuries, but necessities, and should be treated as such."
The public's response to the initiative has been mixed. Many people on Twitter are concerned about the presence of tampons in the men's room. So there has definitely been opposition to the move, but Nguyen told the Washington Post that within two days of the release, he'd already received dozens of calls from schools across the country hoping to get guidance on starting their own free-tampon programs. The council of students had hoped to start a conversation and inspire other universities to adopt similar programs, and it seems like that is indeed happening.
This is a major step in the right direction for a few important reasons. For one, it eliminates the tampon tax for Brown students, and it's part of a larger trend to recognize the absurdity of classifying menstrual products as a luxury. Anyone who gets a period will tell it's certainly not a luxury. According to New York Magazine, eight states and two major cities have passed legislation to eliminate the tampon tax. Notably, New York City also approved a free-tampon program earlier this summer in July. That a university is stepping into this discussion is incredibly significant.
Not only does the student-run effort eliminate the tampon tax, but it also addresses the high cost of tampons in general. With a name-brand tampon box costing upwards of $10, the cost of menstruation likely ends up being thousands of dollars over a lifetime, according to the Huffington Post.
And finally, this program is a huge step towards transgender inclusivity. As Nguyen has said in his release and in interviews, people who do not identify as female also menstruate, and "not all those who identify as women menstruate." It's important that essential products like tampons are available to anyone who may need them. And with harmful bathroom laws being passed and transphobia at a high, the Brown student government's commitment to LGBTQIA+ inclusivity is definitely worth praise.
If you ask me, the Brown student body is doing a great, great thing.