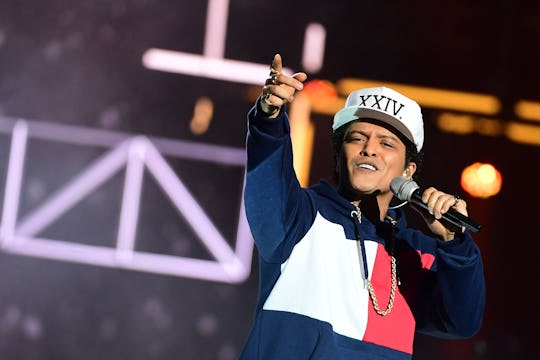 EMMANUEL DUNAND/AFP/Getty Images
Bruno Mars' AMAs Performance Was The Funky Fresh Opener We All Needed
The 43rd American Music Awards opened on Sunday night with one helluva performance: Bruno Mars' AMAs performance was ridiculously awesome. Fans at the Microsoft Theatre in Los Angeles, California were rightfully pumped up for the performance, too: As anticipated, Mars performed "24K Magic" from his new album, 24K Magic — which he only just released on Friday — and his performance included a dance interlude that was filled with Mars' signature funky fresh style.
The AMAs couldn't have picked a better opener for the night. Fans were super psyched when it was announced last month that Bruno Mars would open the 2016 AMAs. America got a little taste of what 24K Magic had in store during when Mars was the Saturday Night Live musical guest in October: "Chunky" totally takes me back to the days of really good Boyz II Men. At the AMAs, Bruno Mars' performance was just as freakin' awesome as his SNL appearance. Wearing track pants and a jacket that reeked of '90s flair and style, Mars launched right into a vintage-inspired rendition of "24K Magic."
As soon as "24K Magic" started playing, fans at the Microsoft Theatre started going nuts. On Twitter, you could barely keep up with all the #AMAs tweets talking about Bruno Mars as he performed. The general consensus? His AMAs performance was off the f*cking chain:
I remain convinced that Bruno Mars just might be one of the coolest musical artists out there right now — he's got a sound like no other and his music never fails to rub off just a little bit of his coolness onto you when you listen to it. His AMAs performance was no different, keeping that funky electric energy going during a time when our country needs it most. As his set came to a close, fans were already on their feet. Now, if you'll excuse me, I need to go download 24K Magic now.