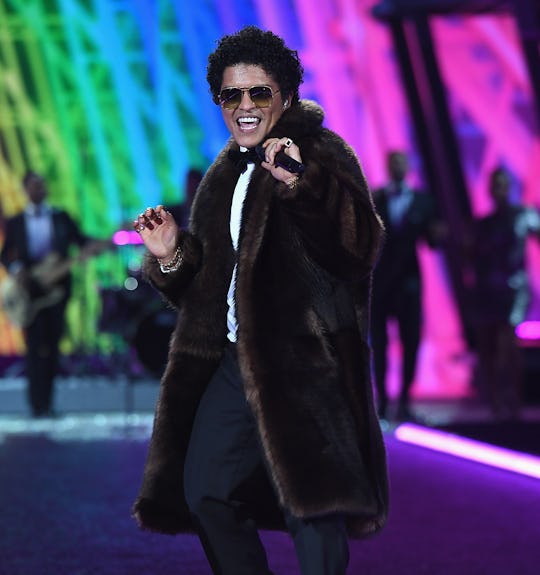 Dimitrios Kambouris/Getty Images Entertainment/Getty Images
Bruno Mars Does Carpool Karaoke With James Corden & His Enthusiasm Is Unbeatable — VIDEO
Someone must have had his Wheaties yesterday morning, because Bruno Mars took on Carpool Karaoke and the enthusiasm was so through the roof, he practically performed a concert in the car. No other passenger can rival Mars' excitement in the car, sorry Madonna. The "24K Magic" singer had a chill air about him, but was also somehow a ball of energy, and his joyful demeanor was refreshing. Late Late Show host James Corden laughed along making jokes with the star, then went old-school Mars by singing "Uptown Funk," "Locked Out of Heaven" and "Grenade." Afterwards, the duo shift into newer material while shifting gears. The highly-energized "Grenade" singer teaches Corden how to be him amidst the karaoke session.
First, the two bond over hats. "You know where the hats come from, is because of this hair," Mars admits while quickly jostling his curls, "I don't know what to do with it." Corden plays into the insecurity by having the 31-year-old try on a few over-the-top hats. Mars settles for the wide-brimmed hat, and Corden for a gold metallic one as they perform "Locked Out Of Heaven" with passion.
Then, Mars shows Corden how to dance, and seduce, like he does during "Versace On The Floor." The "Uptown Funk" singer starts getting funky, moving his shoulders from side to side. "Dig in, let her know," Mars instructs. "Hypnotize her. Are you licking the lips? 'Cause it's not R&B if you're not licking the lips," he says as Corden begins licking his lips as if preparing to consume Fred Flinstone's steak. "No woman I know is wearing Versace," Corden reveals. "What they talking about James?" questions Mars. "Target," the host replies before they both break out in laughter.
Next, Corden comes up with his own lyrics to "Uptown Funk" that involve some wine and wet-wipes. "Pop the cork, and wipe down," Corden repeats "Stop. Wait a minute. Wipe my face, put some liquor with it, oh look I've just done it!" Corden beams as Mars smirks. The two then dance it out to the song, and Corden pants in happiness as he ends his moves in time with the good-spirited star.
By the end of the car ride, Corden is fully decked out in silky, Mars-like attire. Corden rocks an XXIV hat and sunglasses, as the "Perm" singer serenades, "It's my birthday," a fitting lyric since Corden is reborn, and the transformation is complete.