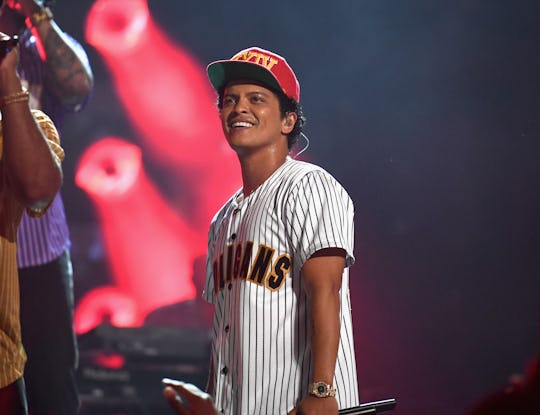 Paras Griffin/Getty Images Entertainment/Getty Images
Bruno Mars Was Just Resting His Eyes At The BET Awards, OK
He was just resting his eyes, OK? Bruno Mars definitely wasn't falling asleep at the BET Awards on Sunday night, despite the many gifs of him falling asleep at the BET Awards floating around Twitter. Just trust me on this.
Upon first glance, yes, I can see how it might look. The iconic Mary J. Blige up on stage, hugging it out with all the big names of the night after a performance so pure the sky opened up and rained down unicorns on the earth. The audience, mostly in awe, cheering and crying. Bruno Mars, tired from his epic performance earlier in the night, dozing off when he thinks no one's looking.
But that's definitely not what happened. He was just contemplating everything he had just seen, taking in the moment. He was meditating on his five nominations (count 'em, guys, five), one of which he won early in the night (Best Male R&B/Pop Artist). He was wondering what it might be like to beat Beyoncé in the Video of the Year category. He was just resting his eyes, you guys.
Of course, Twitter doesn't believe that theory, which is frankly a bit offensive, because Bruno Mars never sleeps, everyone, he's like a vampire that feeds on number one hits and chart-topping albums that no one can stop humming at work or dancing to badly in the break room:
But let's face it, even if Bruno had been napping a little bit on Sunday night, it wouldn't have been surprising; The musician has been killing it lately, delivering hit after hit, most recently leaving fans gasping for air over his Billboard Hot 100 no. 1 single, "That's What I Like", his seventh such no. 1 single total. As Billboard itself pointed out,
With Mars having tallied his first No. 1 as an artist on May 1, 2010 ... as the featured artist on B.o.B's "Nothin' On You," he moves closer to the mark for the most No. 1s this decade: His seven are the most among male artists in the 2010s and, overall, trail only Rihanna's nine and Katy Perry's eight this decade. Mars boasts more than twice as many Hot 100 No. 1s in the '10s than any other male. ... In the Hot 100's history, Mars ties for seventh place among solo males with the most No. 1s, matching the seven leaders each for Phil Collins, Frankie Valli and Elvis Presley (whose career predated the Hot 100 by two years). Michael Jackson leads all male soloists with 13 No. 1s (while The Beatles pace all acts with 20).
So, you know, there you go. Bruno Mars definitely, definitely wasn't napping at the BET Awards because he was tired from all that winning. But if he was... can you really blame him?